American companies are sending more money out the door for things like plant upgrades and dividends than they have in the bank. A casualty of the deficit, says one research firm, could be one of the stock market's biggest support structures: share buybacks.
Data compiled by the Federal Reserve comparing corporate capital outlays with savings and cash-flow rates shows the biggest spending deficit since the bull market began, according to the central bank's quarterly report on U.S. financial accounts. To Neil Azous, the founder of Rareview Macro LLC, the gap is reason for concern about future share repurchases, which might be the first casualty if companies reduce spending.
"Now that we're in year four of this buyback exercise, the hens are coming home to roost," Azous said in a phone interview. "As companies become more leveraged, they can't keep the same pace with buybacks. You don't have the assumption that buyback activity will have the same tailwinds as fourth-quarter periods in the past."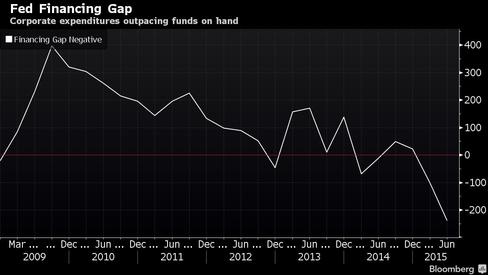 With the six-year-old rally in stocks taking its biggest hit since 2011 in the last two months, buybacks have gone from being a bull market luxury to practically the only thing left going for it. While plans for new repurchases are headed for among the biggest years since the...
More