It appears ISM Manufacturing data has been 'leaked' early and is reportedly printing 52.7 in July, down from 53.5 prior and missing expectations. This is the weakest print since March as the Q2 bounce is now officially dead. Both imports (lowest since Jan 2013) and new export orders (lowest in 3 years) declined as employment tumbled. In fact every subcomponent fell aside from new orders, production, and supplier deliveries with order backlogs at their lowest since Nov 2012.
The bounce is dead...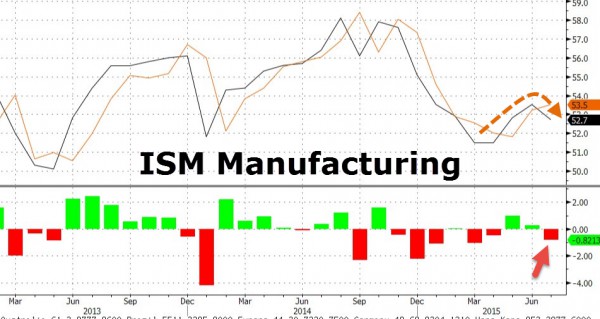 with broad-based weakness....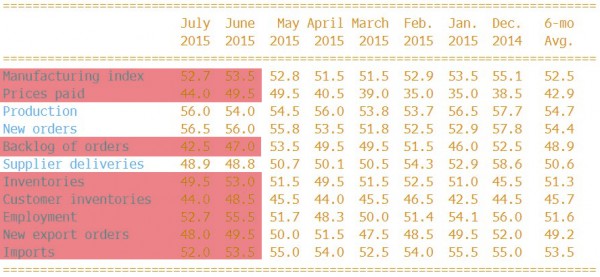 What the respondents were saying:
"AI [Avian Influenza] fears in poultry industry [are] killing exports." (Food, Beverage & Tobacco Products)
"The market is in the summer slow-down." (Fabricated Metal Products)
"Oil price decline continues to negatively impact Oil & Gas industry in North America as many projects are not economically viable. Oil & Gas jobs outlook is in retrenchment. Petrochemical (refining and chemical manufacturing) is positive from a margin perspective, but focus is steady on safe cost containment." (Petroleum & Coal Products)
"Falling oil prices are once again driving chemical raw materials prices lower and creating an expectation of even lower prices in the coming months." (Chemical Products)
"The month of July was really slow, slower than the previous month. We are optimistic for the remainder of the year." (Computer & Electronic Products)
"Global orders still holding up in the wake of international uncertainties." (Fabricated Metal Products)
"Business conditions are stable, little change from last month." (Miscellaneous Manufacturing)
"There's an abundance of containerboard in the global markets." (Paper Products)
"Inbound logistics are almost back to normal." (Machinery)
"Business continues to be strong." (Furniture and Related Products)
And while one can doubt in the current rout there are any commodities in short supply, according to the ISM for the second consecutive month there was an egg shortage across the US.