Chinese internet giant Baidu (NASDAQ:BIDU) is desperately looking for its next big play as growth in its core business slows down. Morgan Stanley analysts recently said that Baidu won't be delivering much upside this year as its growth will be restricted by tight advertising laws in China. Also, as the likes of Tencent Holdings raise their content game by investing in online video, Baidu will find it difficult to boost revenue.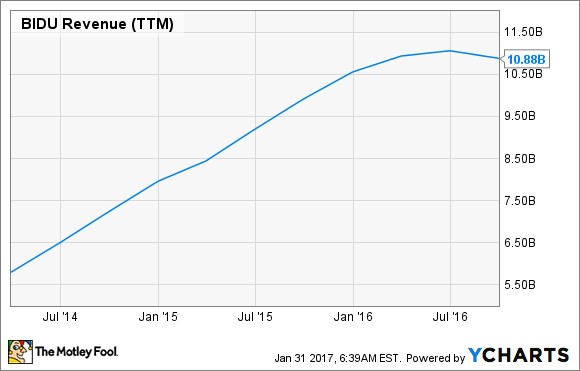 As a matter of fact, Baidu revenue has now started shrinking, and it needs to find its next big home run prospect to push forward. This is the reason Baidu is aggressively looking to tap the potential of self-driving cars. But will it find success in a market that's getting increasingly crowded?
How Baidu has fast-tracked its automotive development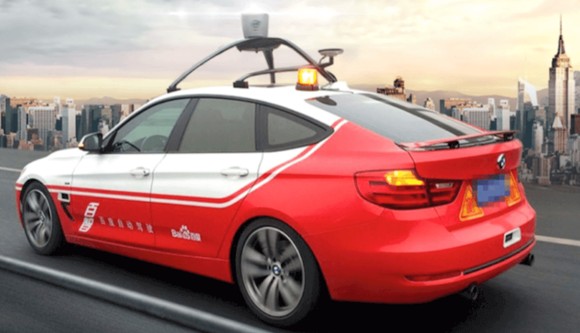 Baidu has set lofty ambitions for itself in the self-driving car space as its first autonomous car is expected to hit the market in the next couple of years. What's more, Baidu believes that it will be able to mass produce self-driving cars starting in 2020. This gives Baidu three years to ramp up its technology and production, which seems like an aggressive timeline considering that it just started testing autonomous vehicles on the road in Dec. 2015.
However, the company began working on autonomous vehicle technology back in 2013, and in less than two years, it was able to complete a comprehensive road test along a 19-mile route. This made Baidu the first company in China to have "demonstrated full autonomy under mixed road conditions", in its own words. Google parent Alphabet, by comparison, had started testing its self-driving technology in 2009.
Baidu has moved at such great speed in the autonomous vehicle space due to certain key partnerships and progress in the field of artificial intelligence, or AI. Baidu started making an aggressive push in AI by hiring former Alphabet executive Andrew Ng back in 2014 to head its AI lab in Silicon Valley.
Then, in Oct. 2016, Baidu set up a $3 billion fund to invest in mid-to-late stage internet companies focused on AI, augmented reality, and virtual reality. Last month, Baidu hired former Microsoft executive and AI expert Qi Lu as its Chief Operating Officer. Baidu CEO Robin Li had the following to say about the latest hire:
To achieve our goals...
More