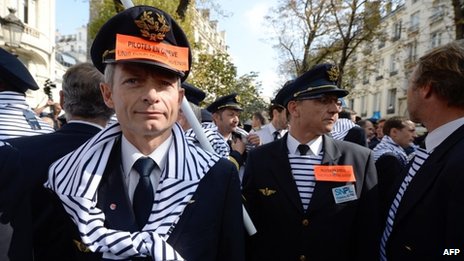 Air France-KLM has said last month's pilots' strike cost it €416m (£328m) in lost revenues as it reported third-quarter operating profit fell by more than half.
The airline said operating profit fell to €247m from €641m a year ago.
It added the combined effect of the strike and seasonal dip in fourth-quarter demand would remove €500m from its €2.3bn earnings target for 2014.
The airline said it will also adjust investments and cut costs in 2015.
"Over and above the effects of the strike, we also predict that the market will remain sluggish in the fourth quarter," Air France finance director Pierre-Francois Riolacci said.
The European economy was still lacklustre, he added, but the effect on activity from concerns over Ebola remained limited.
But he denied Dutch news reports that the airline was looking at major job cuts at KLM, saying there were "no drastic or emergency measures which need to be declared".
Cost cuts
"Of course, there has been a strike and the market environment is difficult, so it is quite right to manage things strictly," Mr Riolacci said.
Air France-KLM
LAST UPDATED AT 29 OCT 2014, 10:21 GMT*CHART SHOWS LOCAL TIME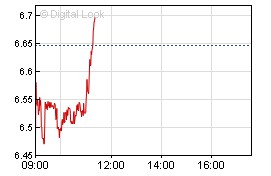 price
change
%
6.69
+

+0.04

++0.63
Last month's pilots' strike came after Air France announced a plan to more than double the number of passengers carried on its budget airline Transavia by 2017, and expand the budget carrier's operations outside France.
Air France said the plan to expand its budget carrier was part of a wider attempt to stem losses and compete with budget carriers such as Easyjet and Ryanair, which have taken a large chunk of business from more established European carriers.
But Transavia pilots are hired under local employment terms and paid less than Air France-KLM pilots.
Air France-KLM shares were 1.38% lower to €6.55 in morning trade in Paris.
Air France said it could also look at selling its remaining 4.4 % stake in reservation systems Amadeus as a way of boosting its finances. The airline has already reduced its shareholding in the last month.
"Our Amadeus stake immediately springs to mind but the formula is a little wider than that, and we have to look at all the possibilities for action in the current environment," Mr Riolacci said, adding that fleet plans would also be up for discussion.
Air-France has yet to take delivery of a final two Airbus 380 aircraft from an original order for 12.
Mr Riolacci said the airline had the option to swap those aircraft for two smaller A350s, which could help reduce costs, but added no decision had been made yet.
Source: http://www.bbc.com/