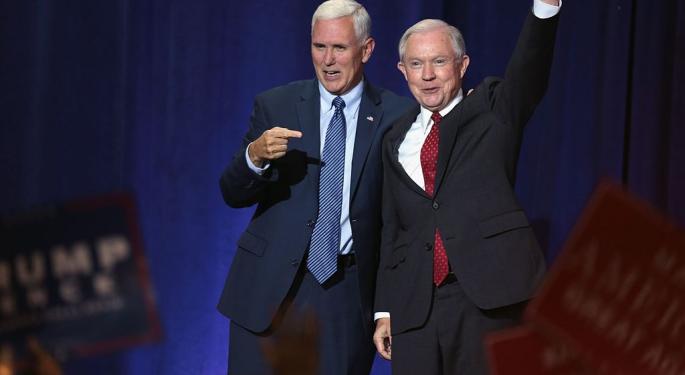 The story is as old as journalism: the tension between a public servant's urge to do the right thing while breaking the law, spilling secrets in the process and paying a price when it gets published.
Reality Winner, a private defense contractor with security clearance, sits in jail today after a U.S. Magistrate ruled Friday she couldn't share any more information regarding what she's been accused of already sharing with The Intercept: a top-secret report about Russia's interference in the 2016 presidential election.
The intelligence report said Russian military intelligence officials tried to hack into the U.S. voting system just before last November's election.
The ruling came the same day U.S. Attorney General Jeff Sessions, who said four unnamed people were being prosecuted for leaking White House secrets about ties to Russia, threatened on Friday to go after news outlets that print leaks.
All this harkens back to the days of "The Pentagon Papers," when leaks were also considered treason by embattled administrations and journalism tread a thin line between reporting what the public needed to know and what was considered illegal to share.
Daniel Ellsberg, Revisited
The investigative press has been here before.
"Trump has found that his core supporters, now dwindling but still representing a third of the electorate, dislike the mainstream media and respond favorably whenever Trump criticizes the media," said John Hartman, a professor of journalism at Kent State University. "That results in more and sharper edged investigative reporting."
Such was the case with Daniel Ellsberg, perhaps the most iconic leaker of insider secrets in U.S. history. He was a defense analyst in the 1970s who was alarmed by the way the U.S. government, and the military establishment, were portraying the rationale for waging the Vietnam War.
Ellsberg, a former U.S. Marine, was portrayed in the day as a hippie subversive. He sent a photocopied report about the winnability of the war to the New York Times, which printed a series of scathing stories and triggered threats of prosecution and censorship by the regime of President Richard Nixon.
After the third article, the U.S. Department of Justice got a temporary restraining order against further publication of the material, arguing that it was detrimental to U.S. national security.
The NYT sued, and the case went to the U.S. Supreme Court, which ruled 6–3 that the government had failed to prove harm to national security, and that publication of the papers was justified under the First Amendment's protection of freedom of the press.
Sound Familiar?
"All recent presidents have battled with the news media and have, at times, treated journalists as mortal enemies and, at times, tried to pressure the news media into covering things the presidents' way," said Hartman.
His examples:
"President Richard Nixon allegedly threatened to take away the Washington Post's lucrative TV licenses after repeated negative coverage."
"President George W. Bush's people allegedly threatened to charge the New York Times editor with sedition in a coverage dispute."
"(Trump) has labeled those who criticize him as "enemies of the people" and has hinted at economic reprisals against Amazon, whose owner Jeff Bezos owns the Washington Post."
Then Again, The Press Is A Pushover For A Popular President
"The news media is less likely to heavily scrutinize a popular president because it knows that a majority of its audience will not be pleased and may tune out/stop reading and cancel subscriptions," said Hartman.
"On the other hand, the news media is more likely to heavily scrutinize an unpopular president because a majority of its audience will be receptive, perhaps viewing/reading more and buying more subscriptions."
This sort of unpopularity — even ridicule — may embolden civil servants such as Reality Winner to leak what they know.
"Because Trump is behaving negatively toward the government establishment and threatening major changes, government employees who feel in jeopardy are more likely to leak information that will result in stories sympathetic to their causes and negative toward Trump," said Hartman.
_______
Image Credit: "Senator Sessions and Indiana Governor, and Republican vice presidential nominee, Mike Pence at an immigration policy speech in Phoenix, Arizona in August 2016" By Gage Skidmore from Peoria, AZ, United States of America - Mike Pence & Jeff Sessions, CC BY-SA 2.0, via Wikimedia Commons
© 2017 Benzinga.com. Benzinga does not provide investment advice. All rights reserved.
Source