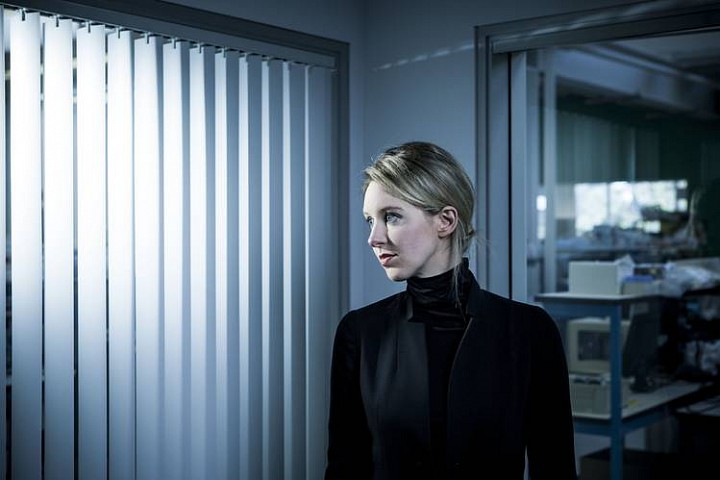 On Theranos Inc.'s website, company founder Elizabeth Holmes holds up a tiny vial to show how the startup's "breakthrough advancements have made it possible to quickly process the full range of laboratory tests from a few drops of blood."
The company offers more than 240 tests, ranging from cholesterol to cancer. It claims its technology can work with just a finger prick. Investors have poured more than $400 million into Theranos, valuing it at $9 billion and her majority stake at more than half that. The 31-year-old Ms. Holmes's bold talk and black turtlenecks draw comparisons to Apple Inc. AAPL -0.73 % cofounder Steve Jobs.
But Theranos has struggled behind the scenes to turn the excitement over its technology into reality. At the end of 2014, the lab instrument developed as the linchpin of its strategy handled just a small fraction of the tests then sold to consumers, according to four former employees.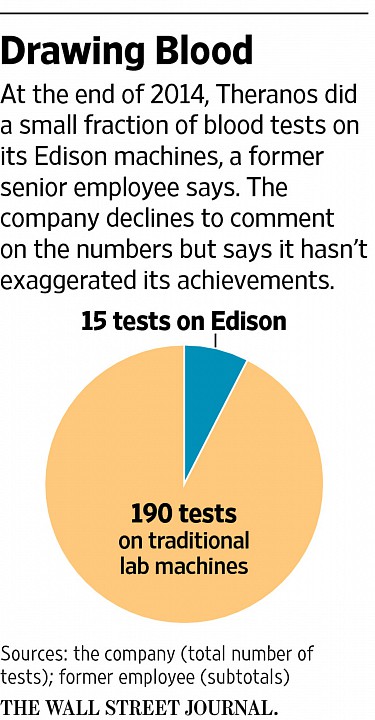 One former senior employee says Theranos was routinely using the device, named Edison after the prolific inventor, for only 15 tests in December 2014. Some employees were leery about the machine's accuracy, according to the former employees and emails reviewed by The Wall Street Journal.
In a complaint to regulators, one Theranos employee accused the company of failing to report test results that raised questions about the precision of the Edison system. Such a failure could be a violation of federal rules for laboratories, the former employee said.
Theranos also hasn't disclosed publicly that it does the vast majority of its tests with traditional machines bought from companies like Siemens AG SIEGY -0.98 % .
The Palo Alto, Calif., company says it abides by all applicable federal lab regulations and hasn't exaggerated its achievements. It disputes that its device could do just 15 tests, declining to say how many tests it now handles or to respond to some questions about its lab procedures, citing "trade secrets."
But Theranos's outside lawyer, David Boies, acknowledges that the company isn't yet using the device for all the tests Theranos offers. The transition to doing every test with the device is "a journey," he says.
Asked about the claim on the company's website, Mr. Boies replied that using the device for the "full range" of blood tests is a goal Theranos will eventually achieve.
Theranos points out that it has publicly disclosed doing "certain esoteric and less commonly ordered tests" with traditional machines on blood drawn with smaller needles from veins.
During the Journal's reporting, Theranos deleted a sentence on its website that said: "Many of our tests require only a few drops of blood." It also dropped a reference to collecting "usually only three tiny micro-vials" per sample, "instead of the usual six or more large ones." Heather King, the company's general counsel, says the changes were made for "marketing accuracy."
Ms. King and Mr. Boies say Theranos's lab work is accurate. Theranos has performed tests on millions of patients referred by thousands of doctors and has received highly positive feedback, they say.
Ms. Holmes, Theranos's chairman and chief executive, declined interview requests from the Journal for more than five months. Last week, the company said she would be available to comment, but her schedule didn't allow it before publication of this article.
User-friendliness
Some doctors appreciate the company's user-friendliness. Results sometimes arrive within 15 minutes, says Scott Wood, a primary-care doctor in Menlo Park, Calif. "That's exciting and could be very useful in emergency situations," he says. When patients ask about trying Theranos, he replies: "Sure, go ahead."
Other doctors said they stopped steering patients to Theranos because of results they didn't trust. "I don't want my patients going there until more information and a better protocol are in place," says Gary Betz, an internist in Phoenix.
Ms. Holmes launched Theranos in 2003 when she was 19 and dropped out of Stanford University in her sophomore year.
Theranos is built around Ms. Holmes's self-professed phobia of needles. She has said in numerous public appearances that drawing a tiny amount of blood at a time from each patient's finger and avoiding the large syringes used by traditional labs will make patients less reluctant to get blood tests. That will lead to earlier diagnoses and save lives, according to Ms. Holmes.
Her first idea was a small arm patch to screen blood for infectious diseases and deliver antibiotics, according to Phyllis Gardner, a Stanford medical-school professor with whom Ms. Holmes consulted at the time. The patch never made it to market.
"She was a young kid with only rudimentary engineering training and no medical training," says Dr. Gardner, whose husband was a member of a Theranos advisory board and still owns shares in the company.
In 2005, Ms. Holmes hired Ian Gibbons, a British biochemist who had researched systems to handle and process tiny quantities of fluids. His collaboration with other Theranos scientists produced 23 patents, according to records filed with the U.S. Patent and Trademark Office. Ms. Holmes is listed as a co-inventor on 19 of the patents.
The patents show how Ms. Holmes's original idea morphed into the...
More