Today, the USD/CAD retreated back below 1.25 after Canadian GDP data beat forecasts.

December's GDP growth came in a 0.3%, beating the 0.2% forecast and the -0.2% print for November. Also, the Q4 GDP was reported at 2.4% at an annualized rate. Q3 GDP was revised up to 3.2% from 2.8%. 

The December GDP reading was boosted by an increase in inventories as we can see in the breakdown below: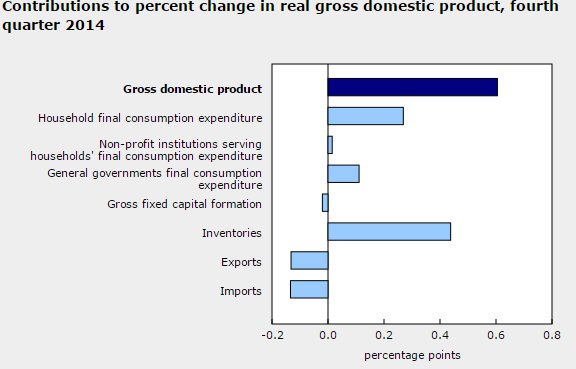 (click to enlarge: source: StatCan)

Even with the decent GDP data, we should note that the overall growth trend is actually sliding as we can see in the historic graph: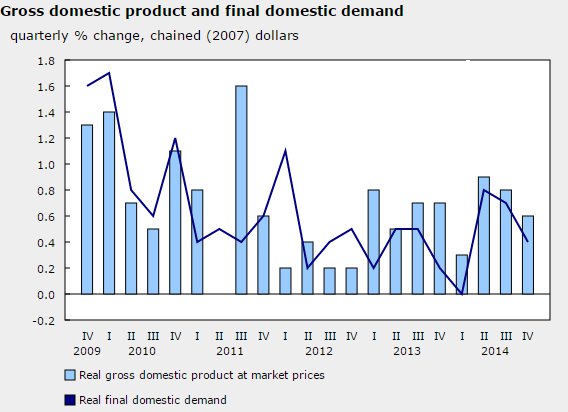 (click to enlarge; source: StatCan)

Now, the USD/CAD retreated from this week's minor advance above 1.25. I don't think this data should be enough to bring USD/CAD below the triangle support at 1.2360. So, if it goes into the support area of 1.2360-1.24, we should consider buying.

USD/CAD 4H Chart 3/3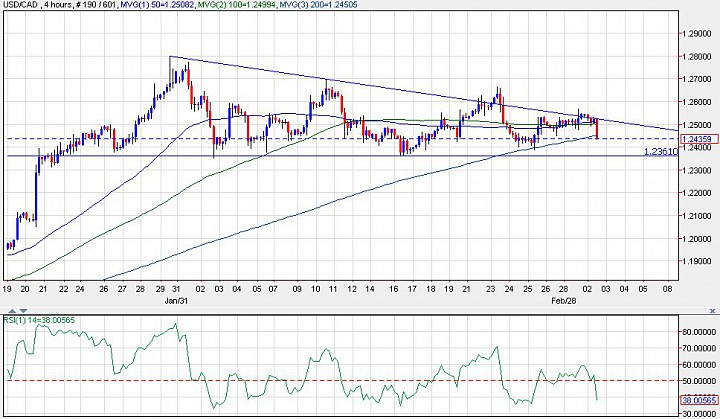 (click to enlarge)
A disappointing US NFP on Friday might be able to pull the USD/CAD lower. In this scenario, the pair would open up to the 1.21 and 1.20 handles, which were common levels during a couple of brief consolidation periods in January. 

Before the NFP, we can expect support and a bullish attempt at least to test the 1.25 handle again. Above 1.2550, USD/CAD would have the 1.28 handle in sight, with risk of extending towards the 1.30-1.3060 highs from 2008-2009.