The Sterling has been very strong recently, in fact from 07/2013 we have been observing a strong uptrend with no serious retracement to the downside. The Pound has taken a long journey from 1.4800 to 1.6800, which covers 2000 pips! A nice move, right? But now it seems, the price hit a very important level (1.6800).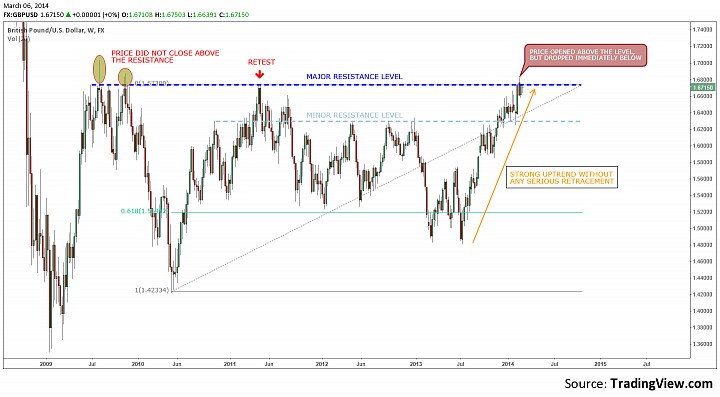 What are the possible scenarios now? What direction is of higher probability, up or down?
Lets come closer to the point.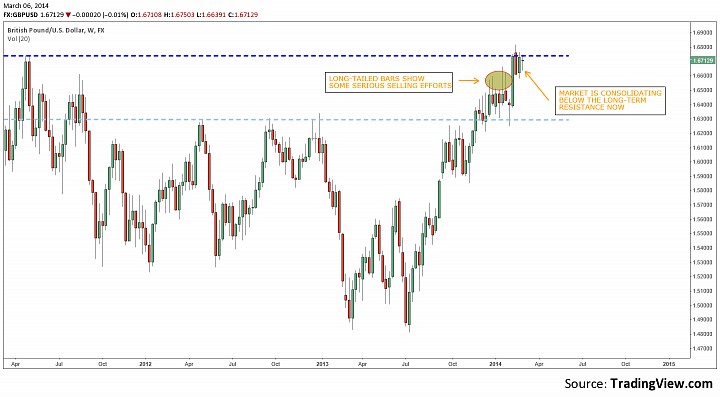 Although we could have seen a nice selling effort around 1.6500 to 1.6600 at the beginning of 2014 represented by a couple of long-tailed bars (see fig. above), the sellers were severely depressed by a strong breakout  on the 2nd of February 2014, which took the price up to 1.6800. This level starts to appear as an important level, which the price is now consolidating below.
So what are the possibillities now? 
Of course, no one can predict the market, but still we are able to get ready for several scenarios, which might come into live.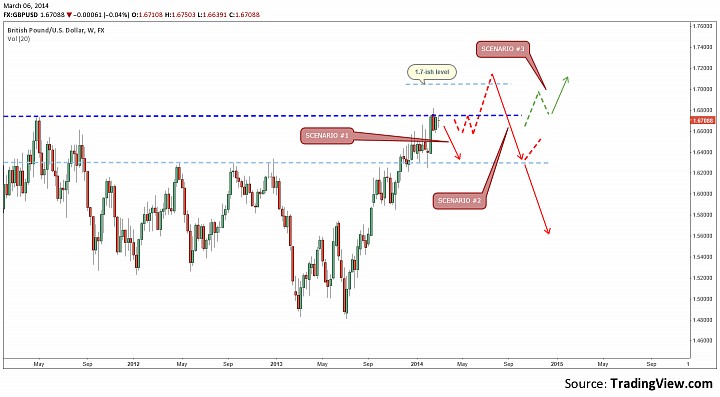 Scenario #1 (bearish)
A short-term scenario in case the price is not able to breach the 1.6800 level and the current consolidation range. Taking into account the strength of this currency pair, I would not bet on a large move down, maybe a "slight" retracement to 1.6300, which is a minor level (former resistance, now support).
Scenario #2 (bearish)
A long-term scenario for a deeper retracement down. This scenario has a very nice potential and probability, because, in fact as I mention above, there has not been any serious retracement to the downside in the upmove from 07/2013 so far. But in order to make a significant drop, the price needs some steam or an impulse, which is still missing there aparently. Fundamentally it is a matter of BoE decisions, technically it may be caused by a false-break (bullish trap) above the major resistance level.
Scenario #3 (bullish)
A short-term (maybe long-term scenario too) for a trend continuation, if the price closes decisively above 1.6800, or 1.7000 and makes a weak pullback as an upside retest of this major levels. But do we really want to buy high? I am not sure.
I have recognized many trading methods and strategies in my trading career, but one thing I am absolutely sure about: Buy LOW, Sell HIGH! In terms of that, I am ready to take action according to scenario #1 and #2, but only if the price action confirms my bias.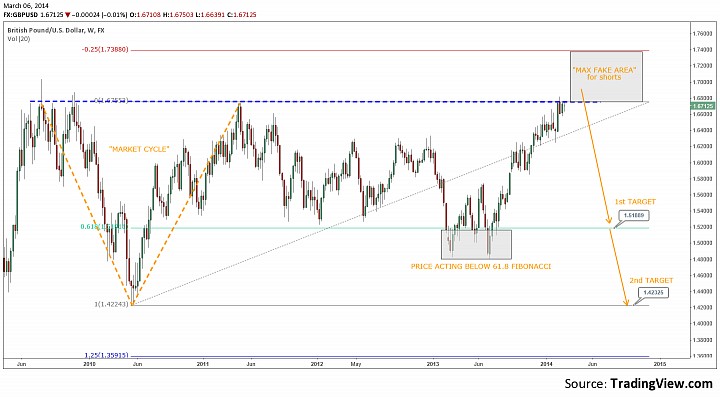 Morover, in the figure above, you can see a pattern corresponding with my bearish tendency.
What does it mean, you ask? It looks strange, right?
Ok, in fact, this is a very effective bearish pattern called Free Fall 1C, which is based on an uncoventional trading methodology used in our SMB Capital Forex and Futures Training Program.
For a deeper understanding you can join us on http://www.smbtraining.com/overview/forex-training
or you can watch my LIVE TRADING VIDEO ON YOUTUBE, where I explain this pattern via my live trade in S&P500: http://bit.ly/1fabepE
In case of any questions or comments, be sure to send me an email or contact me via other social media as stated below.
Petr Suchanek
Forex, Futures & Options Trader
Email: psuchanek@smbcap.com
Twitter: @FlexibleTrader
StockTwits: http://stocktwits.com/FlexibleTrader
YouTube Channel: http://bit.ly/17jWiog
Training program: http://smbu.us/smbwh