The public scrutiny of pharmaceutical company Mylan NV MYL 5.41% has played out on social media as well. And for once, everyone seems to be on the same side.
Mylan has come under fire after significantly raising the price of its epinephren shot, the EpiPen, which provide an emergency dosage of adrenaline to people suffering anaphylaxis, a common reaction to severe allergies.
The product's selling price began to rise after Mylan acquired it in 2007. However since 2009, the price has risen nearly six times that to approximately $610.
According to TickerTags, which monitors social media chatter by searching for keywords across various platforms, public sentiment around Mylan is nearly 100% negative.
Social mentions of "EpiPen" are at a multi-year high, and have been accelerating daily since August 16th. In that time, Mylan stock is down over 11%.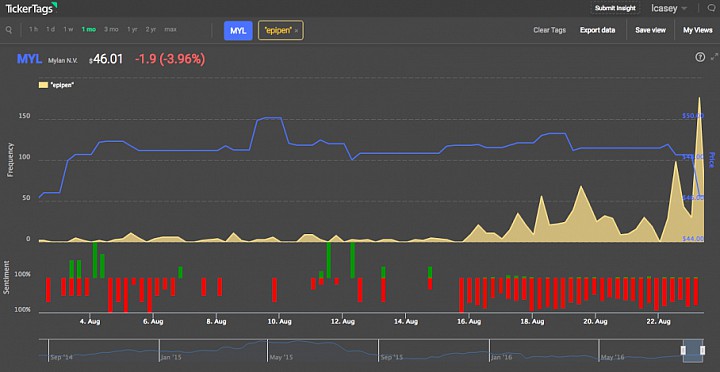 Mylan since issued a statement blaming the changing healthcare insurance landscape saying that "...an increasing number of people and families have enrolled in high deductible health plans, and deductible amounts continue to rise. This current and ongoing shift has presented new challenges for consumers, and now they are bearing more of the cost.">
Interestingly, social chatter has started to drift to Adrenaclick, a less costly alternative to the EpiPen and owned by Impax Laboratories Inc IPXL 0.34%. Impax's Adrenaclick is not covered by most insurance plans however, and is not allowed by the FDA to be substituted for the EpiPen. Still, the increased social chatter about Impax, whose share are currently 50% lower than Mylan's, could lead to upside.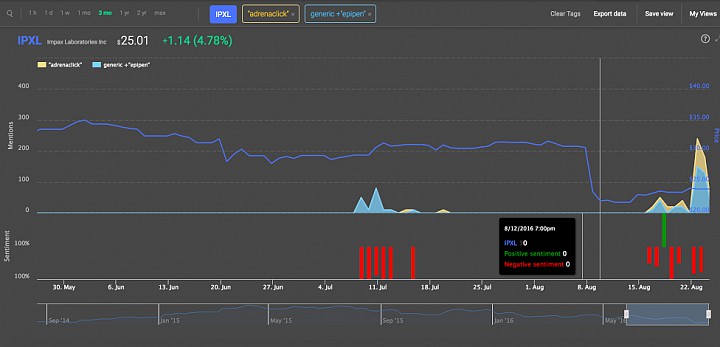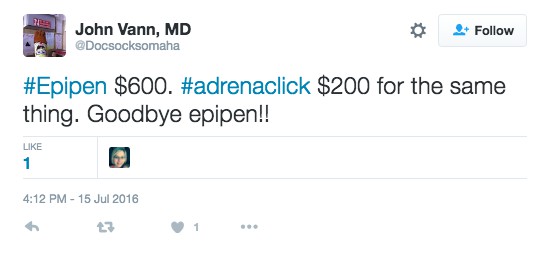 © 2016 Benzinga.com. Benzinga does not provide investment advice. All rights reserved.