Eastman Chemical's EMN stock looks promising at the moment. We are positive on the company's prospects and believe that the time is right for you to add the stock to portfolio as it looks promising and is poised to carry the momentum ahead.

Let's delve deeper into the factors that make this chemical company an attractive investment option.

What's Working in Favor of EMN?

An Outperformer: Eastman Chemical, a Zacks Rank #2 (Buy) stock, has outperformed the Zacks categorized Chemicals-Diversified industry year to date. The company's shares have gained around 11.6% over this period, compared with roughly 9.5% gain recorded by the industry. Eastman Chemical is gaining from its cost-reduction actions and growth of its high margin products.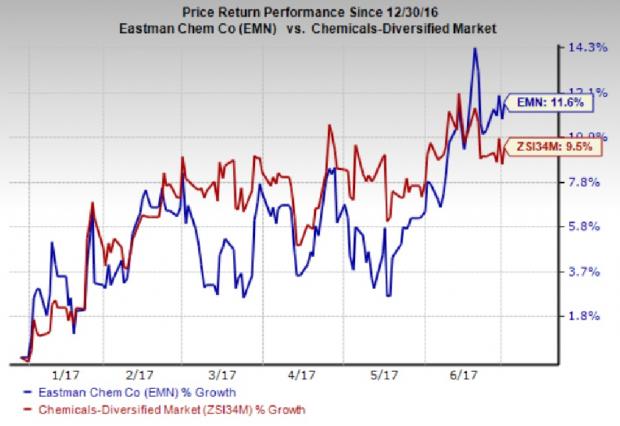 Attractive Valuation: Going by the EV/EBITDA (Enterprise Value/ Earnings before Interest, Tax, Depreciation and Amortization) multiple, which is often used to value chemical stocks, Eastman Chemical is currently trading at trailing 12-month EV/EBITDA multiple of 8.92, cheaper compared with the industry average of 10.68.

Estimates Moving Up: Annual earnings estimates for Eastman Chemical have moved north over the past three months, reflecting analysts' confidence on the stock. Over this period, the Zacks Consensus Estimate for 2017 has moved up 2.3% to $7.49 per share. The Zacks Consensus Estimate for 2018 has also increased 1.1% to $8.12 per share.

Positive Earnings Surprise History: Eastman Chemical has an impressive earnings surprise history. The company has outpaced the Zacks Consensus Estimate in three of the trailing four quarters, delivering a positive average earnings surprise of 4.21%.

Growth Drivers in Place: Eastman Chemical expects to drive growth on the back of innovation and high margin products amid an uncertain global business environment. The company expects adjusted earnings per share to grow 8–12% this year.

Eastman Chemical remains focused on cost-cutting and productivity actions which are expected to contribute around 50 cents to earnings per share in 2017. The company is looking to deliver $100 million of cost savings in 2017.

Moreover, Eastman Chemical remains committed to cut debt and enhance shareholder returns leveraging healthy free cash flows. The company expects to generate solid free cash flow in 2017. It also expects to return around $650 million to its shareholders in 2017.

Eastman Chemical is also gaining from synergies of acquisitions, especially Taminco Corporation. The purchase of Taminco has reinforced the company's foothold in attractive niche end-markets including food, feed and agriculture where Taminco has a strong presence. The acquisition has also provided attractive cost and revenue synergy opportunities. The acquisition of Solutia also represents a significant step in the company's strategy to boost its foothold in the emerging markets, especially in Asia Pacific.
Moreover, Eastman Chemical is seeing strong adoption of the Tritan copolyester product line, which is poised to be a major contributor to the company's future growth. The product is approaching $300 million in annual sales since its launch in 2007. The company is doubling Tritan capacity at its Kingsport facility to support its growth.
Eastman Chemical Company Price and Consensus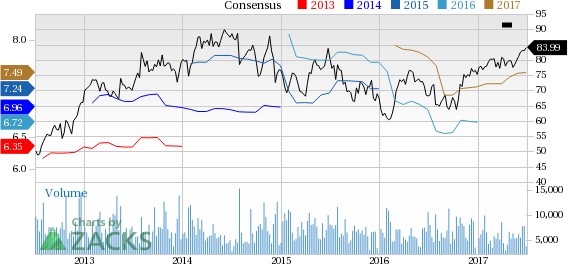 Eastman Chemical Company Price and Consensus | Eastman Chemical Company Quote
Other Stocks to Consider

Other well-placed companies in the chemical space include The Chemours Company CC, Kronos Worldwide, Inc. KRO and Koninklijke DSM NV RDSMY, all sporting a Zacks Rank #1 (Strong Buy). You can see the complete list of today's Zacks #1 Rank stocks here.

Chemours has an expected long-term earnings growth of 15.5%.

Kronos has an expected earnings growth of 354.8% for the current year.

Koninklijke has an expected long-term earnings growth of 7.7%.

5 Trades Could Profit "Big-League" from Trump Policies

If the stocks above spark your interest, wait until you look into companies primed to make substantial gains from Washington's changing course.

Today Zacks reveals 5 tickers that could benefit from new trends like streamlined drug approvals, tariffs, lower taxes, higher interest rates, and spending surges in defense and infrastructure. See these buy recommendations now >>
Want the latest recommendations from Zacks Investment Research? Today, you can download 7 Best Stocks for the Next 30 Days.
Click to get this free report
Eastman Chemical Company (EMN): Free Stock Analysis Report
Kronos Worldwide Inc (KRO): Free Stock Analysis Report
Koninklijke DSM NV (RDSMY): Free Stock Analysis Report
Chemours Company (The) (CC): Free Stock Analysis Report
To read this article on Zacks.com click here.
Zacks Investment Research