Netflix is a US online TV provider. The company offers its services in North and South America, Great Britain, Ireland, Sweden, Denmark, Norway, Finland and the Netherlands. In addition, the company mails out its media products on DVD in the US.
Recently, Netflix published robust financial statements for the third quarter of 2013. The company's quarterly revenue increased 22% y-o-y, with EBITDA improving 156% in annualized terms. Net profit rose by 313% vs. the prior year, surpassing the 12.5% estimate. Additionally, the company trimmed its cost, which led to a higher margin.
Sales in the US grew stronger than outside the country. However, the global client base expanded faster. So far, the international segment is loss making but it is rapidly growing and in terms of client base it will soon break even.
Netflix intends to expand its global presence and double investment in original content (production of own shows and TV series) to encourage an inflow of new customers.
Netflix does not pay dividends but this is not critical for a high-growth company. We expect the company's sales to build up rapidly due to improved content and international expansion.
Our midterm fundamental value of the company is USD 460. The short-term technical target is USD 400.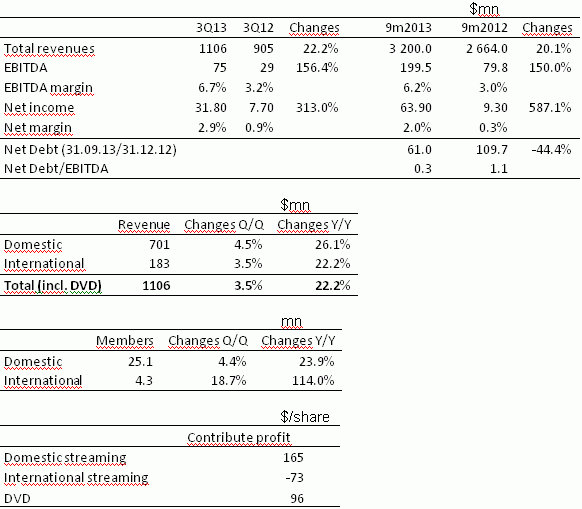 <!== INSTRUMENT %% %1440% ==!>