EURUSD managed to jump above the 50 day SMA but again found resistance from the 100 day SMA on the hourly chart. The gains came after the release of missed US economic data yesterday. But the pair was not able to hold gains after ECB announced that it decide to keep the interest rates unchanged on marginal lending facility, main refinancing operation and marginal lending facility at .30%, .05%and -.20% respectively.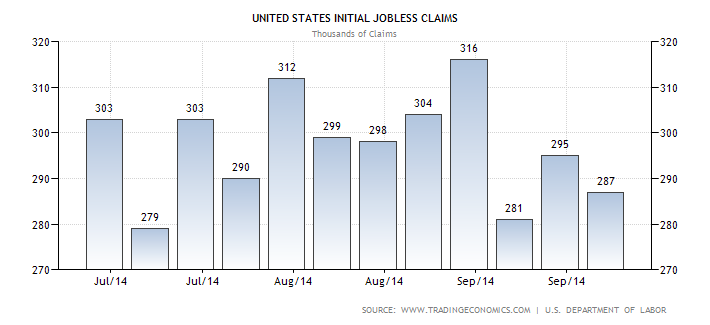 "On the other hand a separate report showed that the number of people applying for new unemployment benefits fell by 8k to 287K in the last week of September. Economists were expecting it to increase to 299K. The four week average which is considered as a better gauge of labor trends fell by 4250 to 294750"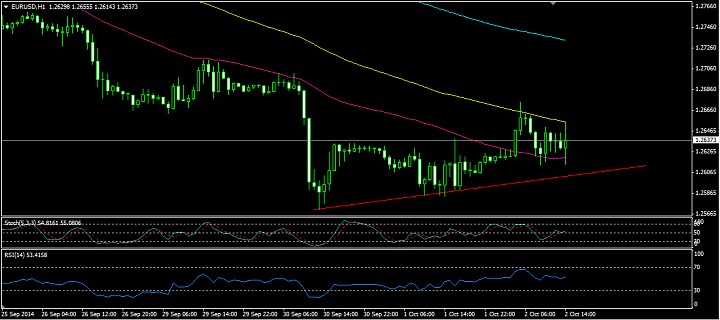 EURUSD : Hourly Chart
In the press conference Draghi said that the asset backed purchases will last at least two years. EUR again bounced finding support from the 50 day SMA as Draghi speaks with press but continue to face resistance from the 100 day SMA. He said that the asset backed purchases are aimed to boost lending.He also said that the price stability in EUR is not a target for Bank but is important for growth and reasoned the recent drop in EUR by the divergence between ECB and Fed monetary policy.If the inflation expectations starts to deteriorate ECB members are unanimous to use other unconventional measures.
I think demand for US dollar continue to weigh on the pair and therefore should decline. There also seems a rising support trend line. So it should break below the 50 day SMA and find support from the rising support trend line.However if it crosses above the 100 day SMA, the next key resistance it will find at 1.2668.