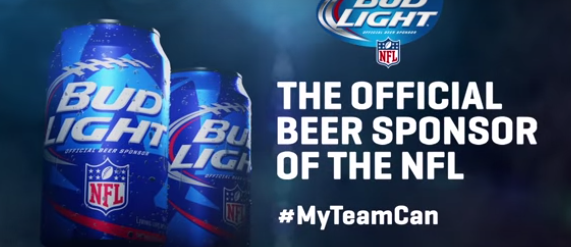 #MyTeamMyCan
Bud Light (NYSE: BUD) is making yet another attempt to appeal to a mass audience within the shining times of microbrews. According to AdWeek, the brewer has partnered with 28 NFL teams in order to created themed team cans to be sold not just at games, but on shelves nationwide.
However, the company was unable to partner with the Green Bay Packers, Chicago Bears, Dallas Cowboys or the Minnesota Vikings because they are all partnered with MillerCoors, AdWeek reported.
"Ultimately, fans love football and the NFL, but what they really invest in emotionally each week is their individual team," VP of Bud Light Alex Lambrecht said, according to Ad Week. "Throughout the 2015-16 season, Bud Light and its team partners will be unrelenting in delivering incredible, one-of-a-kind experiences to fans in their local team stadiums and markets."
Bud Light tried the same tactic with its can recently at the Mad Decent Bloc Party, according to AdWeek. In this campaign, the company teamed up with HP (NYSE: HPQ) vertical printing and various independent artists to created thousands of different patterned cans in an attempted to connect with millennials.
I'm unsure if Bud Light's marketing tactics, using the cans as pieces of art, essentially, with appeal to millennials. The goal is produce individualized cans to give the drinker a more personal experience, however, the fact remains that Bud Light is a macro-produced beverage. 
In a time where younger people are reached for small batch brews from lesser known brands, its unclear what the future for breweries like Bud Light have in store. 
For more business and financial news, click here.
*This is editorial content and expresses the opinion of the author.