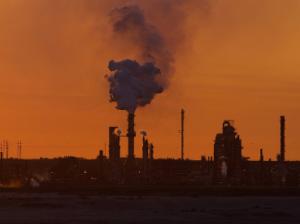 >
After months of preparation, talks between producers in Doha failed to deliver anything to end the global oil glut. Yet, Kuwait has managed that by itself in just a few days.
A labor strike that began Sunday has slashed the Persian Gulf nation's output by 60 percent, shuttering 1.7 million barrels a day -- slightly more than the surplus sloshing around world markets in the first half of the year. That oversupply caused prices drop to a 12-year low in January.
"If the potential loss of Kuwaiti crude supply is sustained long enough, that is roughly equivalent to current estimates for the global stockpile build in the second quarter," said Harry Tchilinguirian, head of commodity markets strategy...
More