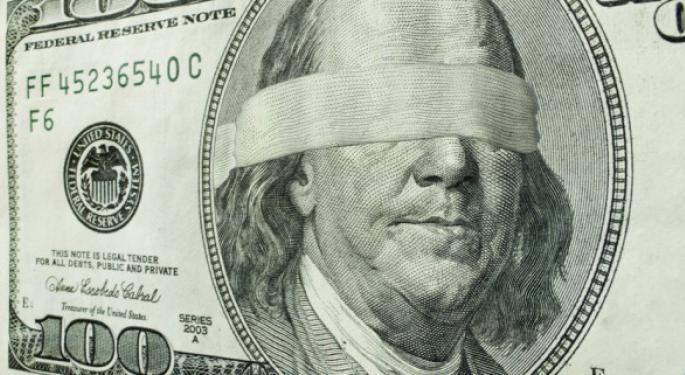 Famed journalist, CNBC contributor and Managing Partner of Pacific Square Research, Herb Greenberg, was a special guest on Benzinga's PreMarket Prep Thursday. Among the many topics of conversation included Alibaba Group Holding Ltd (NYSE: BABA).
Alibaba is in the midst of making a recovery after bottoming at $57.20 earlier this year; The stock was trading at $84.64 Thursday morning.
According to Greenberg, investors should be paying closer attention to the firm's accounting, which calls into question if company is "as profitable as it appears to be."
Greenberg pays particularly close attention to Alibaba and has done several forensic accounting investigations. Alibaba treats its costs inside the company differently from other companies and this is going unnoticed by many analysts, especially technical analysts that place a large degree of emphasis on the charts.
"The type of stuff we are talking about is so deep in the weeds that even if you were to go to most analysts who follow the company they would say, 'Hey you know we can't deal with that,'" Greenberg explained.
Specifically, Greenberg is concerned with what would happen to Alibaba's financials if certain costs need to be added to its balance sheet.
Greenberg added that an in-depth and expert knowledge of accounting is required to perform the deep dives into a company's financials - a perfect fit for Greenberg's business partner, who holds a PhD in accounting in addition to holding other titles including a certified fraud examiner.
Meanwhile, Alibaba already disclosed it faces an SEC investigation. Greenberg said the issues being examined "may or may not matter" depending on the regulator's investigations and outcome.
Bottom line, any financial restatements shouldn't be ignored by investors as it could have an impact. However, investors may be complacent in brushing off SEC investigations.
"People have become blind to this stuff because it hasn't mattered for so long," he said, adding this may be a "mistake."
© 2016 Benzinga.com. Benzinga does not provide investment advice. All rights reserved.
Source