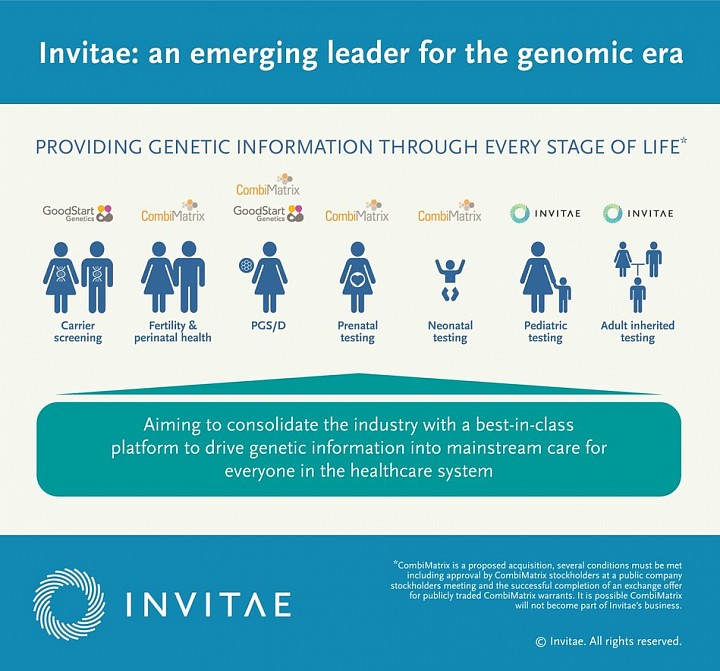 "This is a transformative moment for Invitae, for our industry, and — importantly — for patients. By acquiring Good Start and CombiMatrix, Invitae intends to create the industry's first comprehensive genetic information platform providing high-quality, affordable genetic information coupled with world-class clinical expertise to inform healthcare decisions throughout every stage of an individual's life," said Sean George, chief executive officer of Invitae. "We believe the strength of our existing platform, strategic acquisitions like these and our network of partners will fuel continued growth and further establish Invitae as a leading genetic information service provider."
Good Start Genetics: Genetic Information for Parents-to-Be
Good Start's suite of offerings includes carrier screening and preimplantation embryo testing, which provides women, their partners and their clinicians with insightful and actionable information to promote successful pregnancies and help build healthy families.
"We are excited to bring our world-class, proprietary approach to genetic testing for women who are pregnant or planning to become pregnant to the Invitae platform," said Jeffrey Luber, president and chief executive officer of Good Start. "Our companies share a belief in the power of genetic information to transform people's lives and a common commitment to making that information affordable and available to all. Today, we are thrilled to bring the momentum we've built in IVF to Invitae. Together we will enhance our combined offerings in this important category and bring that comprehensive solution to our customers for the benefit of growing audiences everywhere."
Good Start was the first to bring next-generation sequencing to reproductive health and, with its three primary product lines, has processed 1.7 million tests since its commercial launch in 2012.
In-Clinic Carrier Screening: Its flagship genetic carrier screening service, GeneVu, includes a comprehensive menu of highly-accurate diagnostic tests to assess known and novel mutations that cause inherited genetic disorders.
At-Home Carrier Screening: The recently launched VeriYou delivers physician-ordered, carrier screening via an at-home, affordable test service with genetic counseling and is available through Amazon.com, Inc.
Preimplantation Screening: Its proprietary and advanced preimplantation genetic screening test, EmbryVu, based on technologies exclusively licensed from Johns Hopkins University School of Medicine, is designed to provide an affordable testing service for individuals using assisted reproduction to achieve a healthy pregnancy.
Good Start has succeeded in making these tests available at scale via a next generation sequencing (NGS) platform that simplifies workflow and lowers costs while preserving quality. Good Start complements these offerings with world-class customer care and access to genetic counseling.
Under the definitive agreement, Invitae will acquire Good Start through the issuance of up to approximately 1.65 million shares of Invitae common stock (subject to a partial hold-back to cover indemnification liabilities), the payment of approximately $18.3 million in cash consideration to eliminate Good Start's outstanding secured debt, and the payment or assumption of approximately $6.0 million in Good Start pre-closing and closing-related liabilities and obligations. The proposed acquisition of Good Start is expected to close in the first part of August, subject to customary closing conditions. Leerink Partners LLC is serving as financial adviser to Invitae on the acquisition of Good Start, and Pillsbury Winthrop Shaw Pittman LLP is serving as legal adviser.
CombiMatrix Corporation: Advanced Diagnostics for Women and Newborns
The acquisition of CombiMatrix will complement Invitae and Good Start's genetic information services to establish a category-leading menu with the breadth and depth needed to provide comprehensive support for women, their partners and clinicians to use genetic information when considering their reproductive health options.
"We are excited to be joining forces with Invitae. This combination of CombiMatrix, a recognized leader in genetic testing for Miscarriage Analysis, with one of the fastest growing genetic information companies in Invitae provides a tremendous opportunity to accelerate the growth of both companies. The information that we will be able to provide as a combined entity will enable clinicians to help guide women through some of the most important health decisions they make along the continuum of care in family planning," says Mark McDonough, president and chief executive officer of CombiMatrix. "We are eager to combine our complementary product portfolio, expertise and relationships to create the market leader in family health genetics."
CombiMatrix is recognized as the leader in miscarriage analysis testing and offers DNA-based testing for the detection of genetic abnormalities beyond what can be identified through traditional methodologies for use in preimplantation genetic diagnostics, carrier screening, prenatal diagnosis, miscarriage analysis and the diagnosis of pediatric...
More