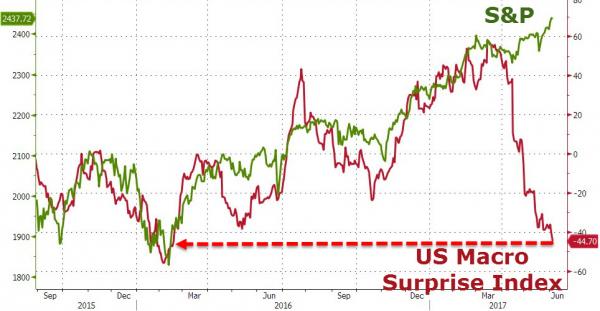 BUYBUYBUY?
Is there really any point to discussing the falling-off-a-cliff Macro Index which USUALLY leads the S&P up and down when we are in a market that reality forgot? Last time the Macro Index was this low, the S&P was at 1,850 – down 24% from where we are now and we're 10% over the 200-day moving average and yet we're still scared to short the market because every dip gets bought – pretty much immediately.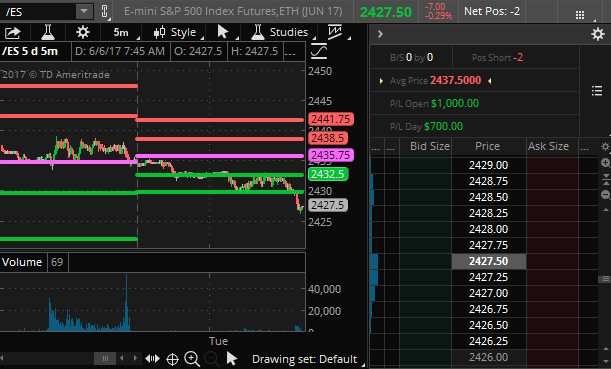 While we are timid about shorting individual stocks, we are happy to do some hit and run work on the Futures and the trade ideas we had for you in yesterday's PSW Report ($3/day to have them delivered to you, pre-market) made a quick $1,000 already on two short S&P (/ES) Futures shorts and the Russell (/TF) is down to 1,385 for another quick $1,000 per contract gain so 2 short /TF and 2 short /ES has been a $3,000 return on your $3 investment since yesterday morning – a very wise investing decision on your part!
Oil (/CL) and Gasoline (/RB) were losers so far but we still have faith with /CL over the $47.25 line (tight stops below) and /RB over the $1.53 line. Hopefully tight stops kept yesterday's losses in the hundreds and, of course, our Coffee (/KCU7) long more than made up for it with a huge $3 move per contract (to $131) at $375 per $1 is $1,125 per contract and you are very welcome!
Making $4,000 is always a good way to start the week so no need to be greedy and we take the money and run on the winners and wait to see if your two losers pay off. There's always new opportunities and we identified two long plays for our Members into yesterday's close as Craigs620 pointed out that Barrick Gold (ABX) hasn't been participating in the gold rally so we upped our Long-Term Portfolio position on that stock (one of our favorites) as they tested the $16 line. Earlier this morning, Advill identified another LTP opportunity we'll be jumping on by selling $4,300 worth of December puts to establish a cheaper entry (or just keep the $4,300 – either way we win).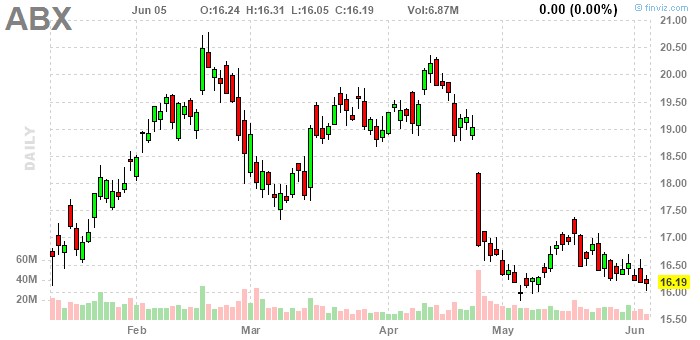 When gold began to fall in October of last year, there were a lot of ETF holders who had come in between $1,050 and $1,150 in early 2016 and those people began to cash out as $1,300 failed. That, in turn, forced the ETFs to dump physical gold on the market and led to a far deeper sell-off than was deserved, which let to more ETF selling, etc until gold was back to $1,200 and the buyers came back in but still we haven't seen anything like the kind of ETF buying (which takes gold back off the market and spikes demand) that we had in early 2016, which rocketed gold 25%.
25% up from $1,200 is $1,500 so watch that $1,300 line to break to the upside and then there should be some real fireworks so I also like Gold Futures (/YG) above the $1,300 line with tight stops below (now $1,293.40) and, as mentioned above, I like our ABX play (Members Only) but you can also participate with the Gold ETF (GLD) and become one of those buyers who caused the ETF to accumulate gold on your behalf. GLD is at $121.73 and the Sept $118/123 bull call spread is net $2.80 and you could buy 10 of those $2,800 and sell 10 ABX 2019 $15 puts for $2 ($2,000) to net just $800 cash for the $5,000 spread, giving you a $4,200 (525%) upside potential if GLD is over $123 in September and ABX holds $15. Worst case is you end up owning 1,000 shares of ABX for net $15.80, about where it is now, where we're buying them anyway.

That's the way we like to play the market – take a nice, simple premise and use very little cash in a leveraged spread where the worst case is simply owning the stock we like anyway as a long-term investment. That's how we manage such huge portfolio returns despite remaining about 80% in CASH!!! Have I mentioned how much I like CASH!!! lately? Especially when it's on sale!
That being said, we'll be taking another very critical look at our Long-Term Portfolio plays this week, to see if there are any positions we can convert to CASH!!! but we already did that in March, so not too many positions left that we don't love.
There are still a few positions on our Watch List that are buyable on the dips though not many left as most have already taken off on us in this crazy rally. Our 2013, 2014 and 2015 Stock of the Year, Apple (AAPL) is another one that took off on us and they were at $110 last time we picked them and fell back to $90 (down 20%) before the recent run to $155, where we think they are a bit overbought at the moment.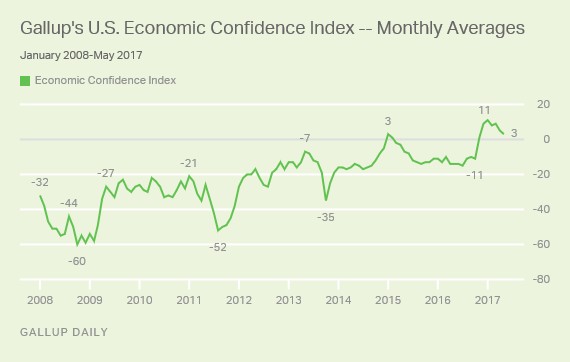 AAPL is having their developer's conference this week and, though there's been a lot of interesting stuff – there's nothing earth-shaking and we'll see if the investors are confident enough to hold $150. If AAPL does pull back the rest of the Nasdaq may not be far behind.
We got our economic confidence numbers this morning and they are back where they were ahead of the election in November, the Trump rally has officially come to an end – the indexes just don't know it yet. Also in Trump Land, we're waiting on recently-fired FBI Director, James Comey to testify on Thursday – that's going to be interesting, to say the least.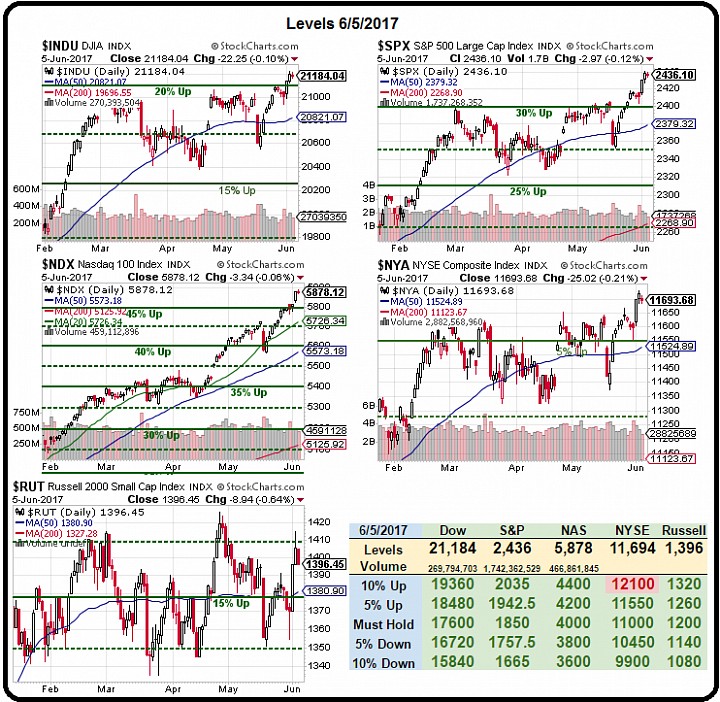 Provided courtesy of Phil's Stock World.
Would you like to read up-to-date articles on the day they are posted? Click here to become a part of our growing community and learn how to stop gambling with your investments. We will teach you to BE THE HOUSE - Not the Gambler!