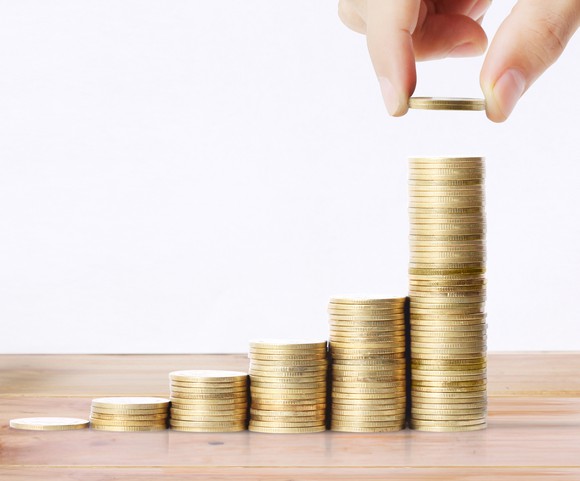 Smart investors always think for themselves. However, with some research supporting the wisdom of crowds, investors may also be well served by keeping an eye on the top-performing and most popular stocks to buy today. Here's a brief rundown of five of the most popular stocks on the market today.
Apple
As the world's largest and most profitable publicly traded company, technology colossus Apple (NASDAQ:AAPL) is hardly a surprise appearance on this list. In fact, Apple is so popular among investors that its shares are roughly 3 times more heavily traded than some of the more popular broad-market ETFs.
| Popular Stock Name | Market Cap | Avg. Daily Volume | Average Analyst Rating |
| --- | --- | --- | --- |
| Apple | $579.4 billion | 33.4 million | Buy |
However, Apple offers investors a lot more than just liquidity. Even if the forthcoming iPhone 7 were to end up a dud, demand for new iPhones would simply transfer from one Apple product cycle to the next, setting up an iPhone "supercycle" in late 2017.
Chipotle
Chipotle Mexican Grill (NYSE:CMG) is a divisive entry on this list. Its notable expansion over the past decade has been rocket fuel for its financial results and stock-price performance. But more recently, Chipotle's food-poisoning woes have tainted the company for many investors. Not that it isn't a longtime Fool favorite -- or still a popular stock:
| Popular Stock Name | Market Cap | Avg. Daily Volume | Average Analyst Rating |
| --- | --- | --- | --- |
| Chipotle | $12.0 billion | 1.08 million | Hold |
The shares are down roughly 50% versus the S&P 500 over the past 12 months. But the current weakness appears unlikely to permanently impair what had been one of the most successful restaurant concepts since McDonald's pioneered fast food in the middle of the 20th century.
Shake Shack
The new kid on the block, January 2015 IPO Shake Shack (NYSE:SHAK), was billed as the next Chipotle. But it's gone from enjoying a...
More