The much anticipated segwit2x hard fork is canceled. Basically, there was not enough support a week ahead of the slated event. The fork was suppose to "upgrade" the blocksize to 2mb, with the intent of improving scalability of bitcoin. \
Techcrunch - SegWit2x backers cancel plans for bitcoin hard fork

However, many exchanges are reluctant to support the "new chain", and some in the community consider this fork an attack on bitcoin. The idea is that bitcoin itself was never meant to be used in everyday commerce even if it is mass adopted. Maybe the altcoins will fill that gap.
BTCUSD 4H Chart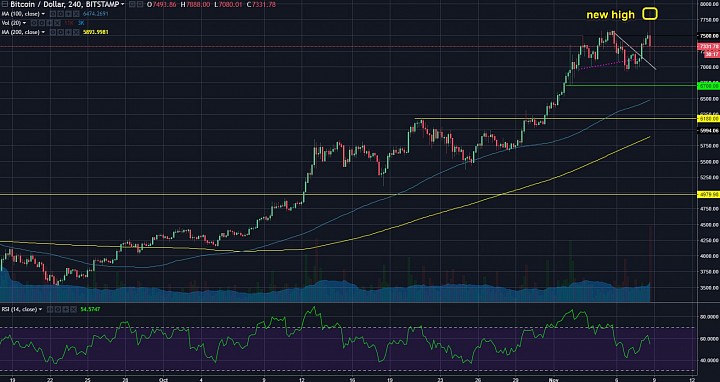 (click to enlarge)

It is very likely that many would-be bitcoin investors were waiting for this event to pass. Now that it is no longer on the radar, new money flowed into the bitcoin and cryptocurrency space. However, the total market cap also saw some outflow after BTCUSD made a new high.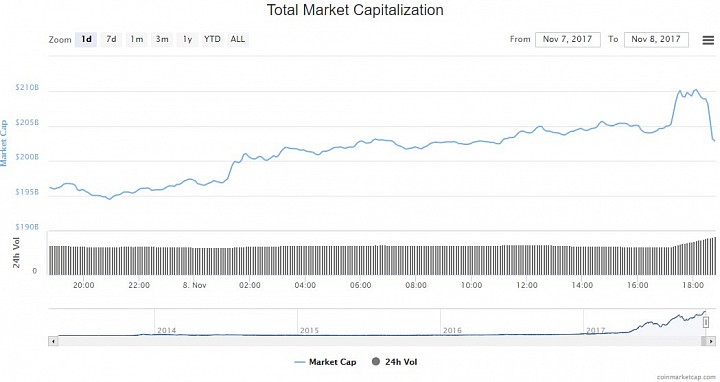 This does look like some profit taking ahead of the 8000 mark. However, the capital inflow still looks healthy and BTCUSD still looks bullish.

Who's going to be the genius to call the top? Not me.