Earlier today, we got a hint that hopes that the 5th dead cat "housing rebound" bounce have been indefinitely delayed after Mortgage Applications cratered by over 13% after tumbling 9% in the week before on even the most fractional of 10 Year yield increases. That hope suffered another embarrassing defeat moments ago when the Census Bureau reported that in January both housing starts and permits missed expectations, rising at 1070K and 1053K, respectively, once again missing Wall Street consensus of 1089K and 1067K. The reason: yet another drop in single-family housing. Because while multi-family, i.e., rental units, remained brisk and rose from 340K to 381K for the starts and from 360K to 372K for the permits...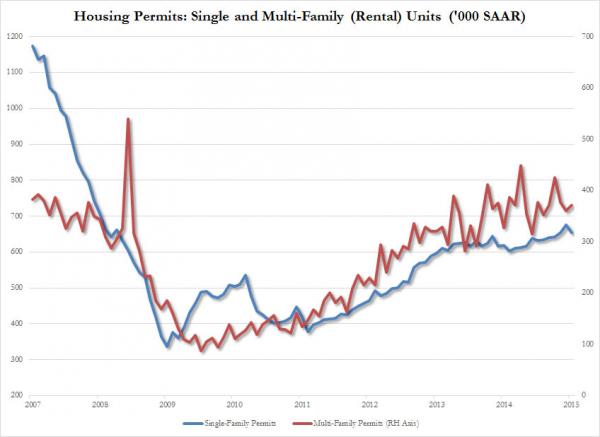 ... the single-family starts declined right back to November levels, sliding from 727K to 678K, while permits dropped from 675K in December to 654K.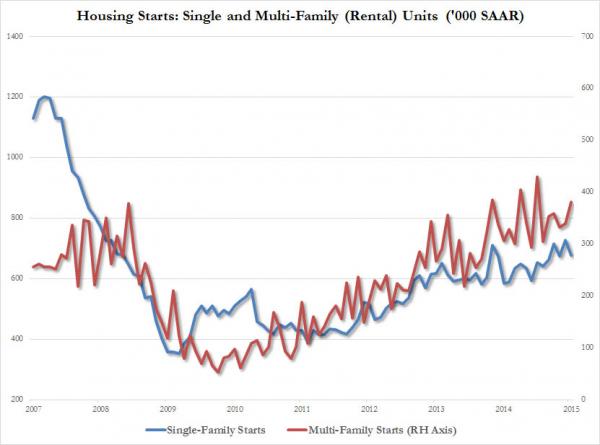 Finally, broken down by region, the biggest drop in total Starts took place in the Midwest, from 180K to 140K, while the biggest increase was in the South, from 496K to 528K. For permits, total units in the South dropped from 162K to 136K while the biggest increase took place in the West, where 278K permits were authorized compared to 238K the month before.