While the negative hits to Valeant over the past month have occurred in the equity space, slamming its stock by 50% in the past month, the biggest threat may not be in the equity space at all, but from the bond market.
As a reminder, Valeant - because it is a debt-funded equity rollup - has debt. Lots of debt: over $30 billion at last check on more than 5x less EBITDA. It is also a junk rated company, in fact it is the third largest junk-bond issuer with over $18 billion in sub investment grade securities outstanding.
As such, far more than its debtless biotech peers, it is that much more sensitive to how the market views not only its equity prospects, but also its debt. And, as we first pointed out a month ago, judging by its CDS, the market was getting very concerned even before the recent revelations involving Philidor.
Since then it has only gotten worse, and currently, VRX' CDS is trading at a spread of 650bps, implying a 43% probability of default.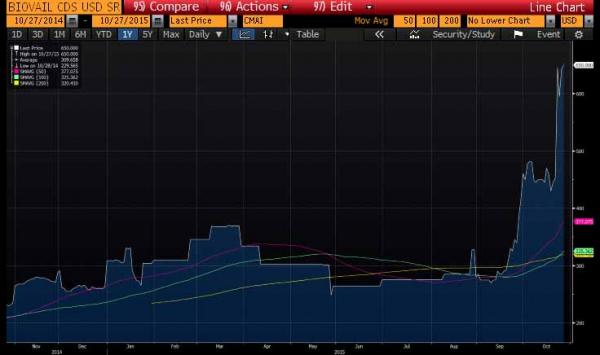 Moments ago, the BB- rated Valeant debt "story" went from bad to worse, when S&P just revised its outlook to negative citing "Risks To Growth" adding that its "negative rating outlook reflects risks to our base case expectation that Valeant can sustainably grow revenue and EBITDA, given the potential reputational, legal, and regulatory risks the company is facing."
And now that there is an incremental risk of another downgrade, ostensibly pushing Valeant into the single B category, it will make it that much more complicated for Valeant to pursue its rollups strategy.
In fact, just like Glencore, the upcoming downgrade from S&P now means that the next strategic move from Valeant will not be an acquisition, but most likely some deleveraging divestment to shore up capital, because if and when the downgrade series begins, the company's debt funding pathway will be promptly closed, leaving only suddenly very risky cash flow as a source of capital.
* * *
Full S&P warning below:
Valeant Pharmaceuticals International Inc. Outlook Revised To Negative On Risks To Growth
Valeant Pharmaceuticals International Inc. disclosed more details about  its financial relationship with specialty pharmacy network Philidor RX Services. Valeant has also announced another change to elements of its strategy, and does not plan to divest its Neuro business in the near term or to permanently slow its pace of acquisitions. This is the second announced strategic change in two weeks.
We view the Philidor relationship and marketing strategy as unconventional and very aggressive, and we expect payers  to increasingly
push back on reimbursement, potentially reducing the viability of this channel.
In our view, the negative attention the company has attracted due to drug price increases and its aggressive marketing tactic increase potential legal, regulatory, and reputational risks to the company.
We continue to view the recent market speculation about channel stuffing and accounting fraud as unfounded.
We are revising our rating outlook to negative from stable and are affirming our 'BB-' corporate credit rating.
The negative outlook reflects heightened uncertainty relating to the financial impact from reputational, legal, and regulatory risks associated with the company's aggressive marketing and drug pricing strategies, as well as potential legal and credibility issues stemming from the lack of earlier disclosure about its relationship with Philador.
 
NEW YORK (Standard & Poor's) Oct. 27, 2015--Standard & Poor's Ratings Services affirmed its ratings on Valeant Pharmaceuticals International Inc., including its 'BB-' corporate credit rating, and revised the rating outlook to negative.
"The negative rating outlook follows Valeant's increased disclosure about its financial and operating relationship with Philidor, a network of specialty pharmacies that distributes some of its products. Valeant said this channel represents 5.9% of revenues for the first nine months of 2015, and 6.8% of third-quarter revenues," said credit analyst David Kaplan. "We estimate this channel represents a higher proportion of the U.S. Branded segment's script volumes than revenues (as cash pay products are reimbursed at lower levels, or unreimbursed in this channel, as part of patient assistance programs to increase access). As such, we estimate that this strategy likely had a meaningful impact on Valeant's reported volume growth rates on a year-to-date basis."
Our negative rating outlook reflects risks to our base case expectation that Valeant can sustainably grow revenue and EBITDA, given the potential reputational, legal, and regulatory risks the company is facing. Our base case expectations also incorporate our view that the company will manage its acquisition-driven growth strategy such that leverage will decline to 4x-5x (after adjusting for acquired EBITDA).
We could lower our rating if Valeant increases the pace of acquisitions, or experiences material operational headwinds, such that we expect adjusted leverage to be sustained materially above 5x. We could also lower our rating if we believe that ongoing investigations are likely to imperil the company's ability to maintain organic revenue growth and strong levels of cash flow, which could indicate more serious issues surrounding the sustainability of the businesses.
We could revise the outlook to stable if we gain more confidence that ongoing investigations are unlikely to harm Valeant's business. Under this scenario, we would expect to have greater confidence that the company would maintain adjusted debt leverage of about 5x or lower, consistent with historical levels.