We are seeing the biggest rise in oil prices since the free-fall began in June. After tagging a low on the year at 44.20, WTI Crude Oiil was trading sideways. Then at the end of January, where was a threat to break down 44.00, and price did edge out a new low, but rebounded after a report last Friday about US and Canada shutting down a significant number of oil rigs. 

WTI Crude Oil 4H Chart 2/3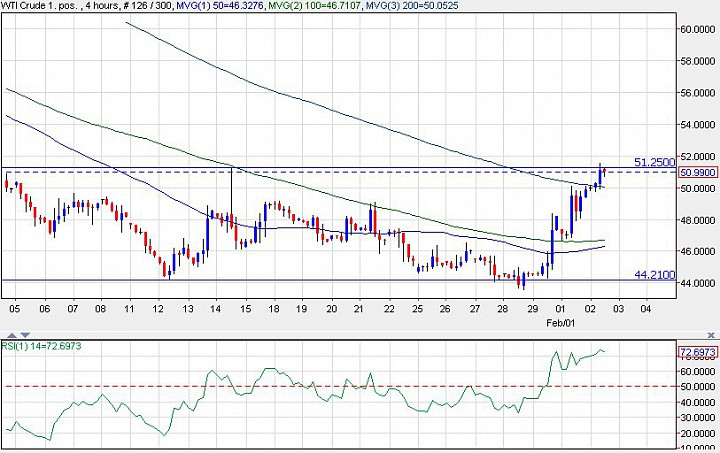 (click to enlarge)
The 4H chart shows that price eventually rebounded from 44 and is now attacking 51.25, a previous resistance pivot in mid-December. We can say that Crude oil has completed a double bottom. 

Now, as the price action in the short-term shows stabilization, we should be careful of sellers.

WTI Crude Oil Daily Chart 2/3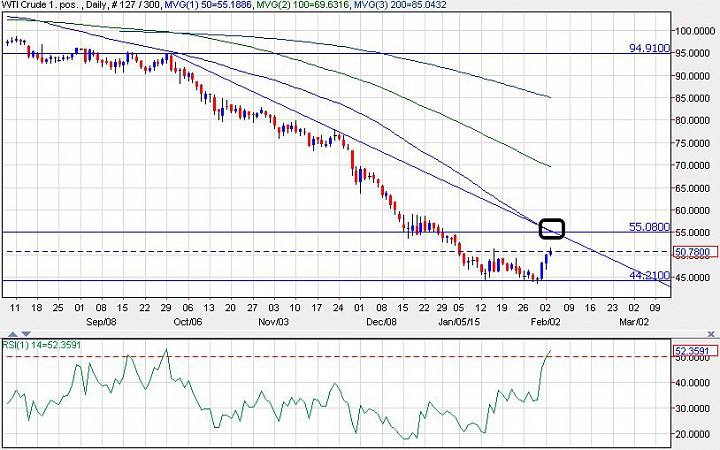 (click to enlarge)
Resistance: Looking at the daily chart, we can see that as price approaches the 55 area, there should be resistance. The area around 55 involves 
1) the 50-day SMA, 
2) a support pivot in the previous consolidation period,
3) and a falling speedline from September.

Double bottom is one way to look at it. But if you are going to respect the downtrend, this price action would look more like a clear-out. One way for bears to stalk this pullback would be to also watch the RSI readings. The 4H RSI is now in overbought territory, so look for a bearish divergence. Meanwhile, the daily RSI is going towards 60. If it stalls and turns down around 60, the bearish momentum in the daily chart would be maintained. If this is occurring as price stalls around 55, we should look for another bearish attempt at least back to 50, and if 50 breaks, the 44 level would be back in sight.