Host Hotels & Resorts, Inc. HST reported third-quarter 2017 adjusted funds from operations (FFO) of 33 cents per share, which came in line with the Zacks Consensus Estimate. However, the adjusted FFO per share fell 10.8% from the year-ago tally.

Results reflect the difficult year-over-year comparisons in Brazil, holiday shift, the impact of the hurricanes, as well as revenue loss from disposition of hotels.

The company posted total revenues of $1.25 billion which missed the Zacks Consensus Estimate of $1.27 billion. The figure was also down 3.2% from the prior-year number, as a result of revenue loss from the sale of 14 hotels in 2016 and 2017. Also, Hurricanes Harvey and Irma adversely affected total revenues in the quarter.
Host Hotels & Resorts, Inc. Price, Consensus and EPS Surprise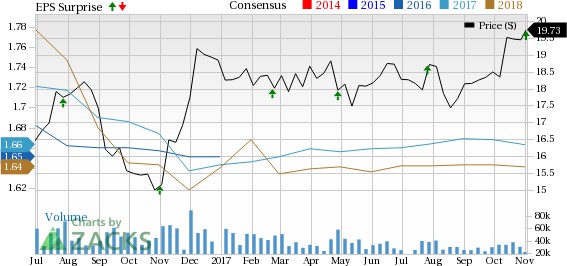 Host Hotels & Resorts, Inc. Price, Consensus and EPS Surprise | Host Hotels & Resorts, Inc. Quote
Note: The EPS numbers presented in the above chart represent funds from operations ("FFO") per share.

Quarter in Details

During the reported quarter, comparable hotel revenues dropped 2.6% year over year to $1.14 billion. Comparable hotel revenue per available room (RevPAR) (on a constant dollar basis) was down 1.8% year over year, due to a 1.5% decrease in average room rate and 30 basis points (bps) contraction in occupancy to 81.1%.

At its domestic properties, comparable hotel RevPAR edged down 0.7%, and plunged 31.0% at its international properties, on a constant-dollar basis. Results reflect the difficult year-over-year comparisons in Brazil that hosted Summer Olympics in 2016. In addition, Hurricanes Harvey and Irma affected its RevPAR performance in the quarter.

Also, GAAP operating profit margin contracted 100 basis points for the quarter, mainly highlighting the difficult year-over-year comparisons in Brazil and the hurricanes' impact.

During the quarter under review, the company invested around $21 million for redevelopment, and return on investment (ROI) capital projects. It also deployed approximately $44 million on renewal and replacement capital expenditures.

Finally, the company exited third-quarter 2017 with around $789 million of unrestricted cash and $807 million of available capacity remaining under the revolver part of its credit facility. In addition, as of Sep 30, 2017, total debt was $4.0 billion, having an average maturity of 5.4 years and an average interest rate of 3.9%. Notably, it did not buy back any shares in 2017. It has $500 million of capacity available under its current repurchase program.

Outlook

Host Hotels narrowed its outlook for full-year 2017. The company now expects adjusted FFO per share in the range of $1.65-$1.67 compared to the prior guidance of $1.64-$1.68. The Zacks Consensus Estimate for the same is currently pegged at $1.66.

This is backed by comparable hotel RevPAR (constant U.S. dollar basis) growth projections of 1.15-1.35%, against the prior outlook of 1.00-1.75%.

In Conclusion

Host Hotels' solid portfolio of upscale hotels across lucrative markets, strategic capital-recycling program and a healthy balance sheet bode well for long-term growth. However, supply growth, specifically in the company's key markets, remains a concern. In addition to this, dilutive impact of asset sales cannot be bypassed. Also, rate hike add to its woes.

Host Hotels currently has a Zacks Rank #4 (Sell). You can see the complete list of today's Zacks #1 Rank (Strong Buy) stocks here.

However, the stock has increased 4.8% year to date, outperforming 2.7% gain of the industry it belongs to.





We now look forward to the earnings releases of Welltower Inc. HCN, Mack-Cali Realty Corporation CLI and Lamar Advertising Company LAMR, all of which are expected to report in the next week.

Note: FFO, a widely used metric to gauge the performance of REITs, is obtained after adding depreciation and amortization and other non-cash expenses to net income.

Zacks' Best Private Investment Ideas

While we are happy to share many articles like this on the website, our best recommendations and most in-depth research are not available to the public.

Starting today, for the next month, you can follow all Zacks' private buys and sells in real time. Our experts cover all kinds of trades… from value to momentum . . . from stocks under $10 to ETF and option moves . . . from stocks that corporate insiders are buying up to companies that are about to report positive earnings surprises. You can even look inside exclusive portfolios that are normally closed to new investors.

Click here for Zacks' private trades >>
Want the latest recommendations from Zacks Investment Research? Today, you can download 7 Best Stocks for the Next 30 Days.
Click to get this free report
Lamar Advertising Company (LAMR): Free Stock Analysis Report
Host Hotels & Resorts, Inc. (HST): Free Stock Analysis Report
Welltower Inc. (HCN): Free Stock Analysis Report
Mack-Cali Realty Corporation (CLI): Free Stock Analysis Report
To read this article on Zacks.com click here.
Zacks Investment Research