Broadcom Limited AVGO recently received U.S. antitrust approval for the buyout of Brocade Communications Systems, per the Federal Trade Commission (FTC). The acquisition announced last November and valued at $5.5 billion, has already received approval in Europe and Japan.

Notably, Brocade Communications is a competitor of Cisco CSCO while Broadcom is a supplier for the same. Hence, Cisco was evidently quite apprehensive about disclosure of confidential information to its competitor. The FTC stepped in and the approval of this acquisition had a strong condition involved. Per the terms of the condition, the production facility working for Cisco will be separated and a firewall will also be used to prevent the misuse of Cisco's information.

There will be a separate information technology system, with security protocols. It can be accessed by only authorized individuals. Also, FTC will be appointing someone to monitor Broadcom-Brocade for five years to ensure that Cisco's information is safe. The period may be extended for another five years.

How is Broadcom Poised to Benefit?

We believe this acquisition will definitely help boost Broadcom's top line, as it enters the network storage devices market. The company has outperformed the Zacks Electronics-Semiconductors industry on a year-to-date basis. While the industry gained 21.8%, the stock returned 33% over the same time period.


With the growing demand for chips in cars and Internet of Things (IoT) devices, chip makers like Broadcom are well positioned to make the most of the opportunity. The company is also anticipated to enjoy the advantage of expanding to a new area.

Per Gartner, worldwide semiconductor revenues are projected to reach $364.1 billion in 2017, with an increase of 7.2% from 2016. Research and Markets recently stated in a report that the global data center storage market is expected to witness compound annual growth rate (CAGR) of 15.01% during 2016 to 2020.
Broadcom Limited Revenue (TTM)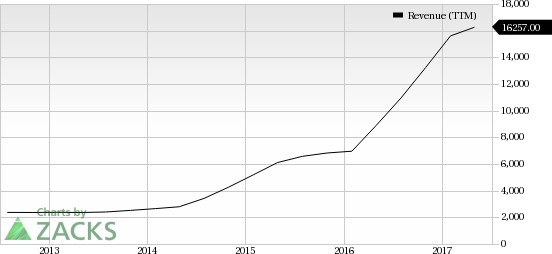 We believe Broadcom is well poised to enjoy the dual growth prospects in the semiconductor market and the data storage and networking sector with its own and complementary products. All these will boost the company's revenues in the long run.
However, increasing competition from other key players like Intel INTC and Sumitomo Corp. SSUMY remains a headwind for the company.

Zacks Rank

Currently, Broadcom sports a Zacks Rank #1 (Strong Buy). You can see the complete list of today's Zacks #1 Rank stocks here.
5 Trades Could Profit "Big-League" from Trump Policies

If the stocks above spark your interest, wait until you look into companies primed to make substantial gains from Washington's changing course.

Today Zacks reveals 5 tickers that could benefit from new trends like streamlined drug approvals, tariffs, lower taxes, higher interest rates, and spending surges in defense and infrastructure.
See these buy recommendations now >>
Want the latest recommendations from Zacks Investment Research? Today, you can download 7 Best Stocks for the Next 30 Days.
Click to get this free report
Cisco Systems, Inc. (CSCO): Free Stock Analysis Report
Sumitomo Corp. (SSUMY): Free Stock Analysis Report
Broadcom Limited (AVGO): Free Stock Analysis Report
Intel Corporation (INTC): Free Stock Analysis Report
To read this article on Zacks.com click here.
Zacks Investment Research