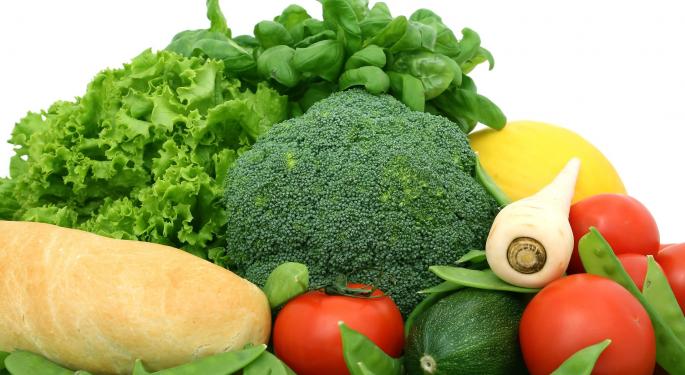 Kroger Co KR is scheduled to report its Q3 results on December 1. "While we view KR as best-in-class, we remain concerned deflation, competition, and lower fuel profits will pressure FY17 EPS and ROI," Barclays' Karen Short said in a report. She maintains an Equal-Weight rating on the company, with a price target of $33.
Kroger's commentary on FY 2017 EPS growth had been "cautious" during its previous Investor Conference. The company mentioned that its business was cyclical, while highlighting that its long-term EPS growth target was not an annual target.
ID Trends
Kroger's shares have gained 9.6 percent since the election, versus a 3.4 percent gain in the S&P 500. Short commented, "What will matter for the stock is the 2-yr ID trends in our view."
The Q3 consensus of 0.6 percent growth implies a two-year growth 6 percent, while the Q4 consensus estimate of 1.3 percent growth implies a two-year growth of +5 percent. "In addition, 4Q15 started off ~4.5 percent, so to maintain the 2-yr trends in to the beginning of 4Q16, comps in 4QTD would need to be in the 1.5 percent range," Short wrote.
The analyst estimated the Q3 EPS at $0.40, ID growth of 0.4 percent and EBITDA of $1,257 million. This compares with the consensus expectations of EPS of $0.41, ID growth of 0.6 percent and EBITDA of $1,248 million. Short projected the FY 2017 EPS at $2.26, versus consensus expectation of $2.28.
At last check, Kroger was down 1 percent at $33.53.
Date
Firm
Action
From
To
Sep 2016
Jefferies
Maintains
Hold
Sep 2016
Barclays
Initiates Coverage on
Equal-Weight
Sep 2016
Citigroup
Maintains
Buy
© 2016 Benzinga.com. Benzinga does not provide investment advice. All rights reserved.