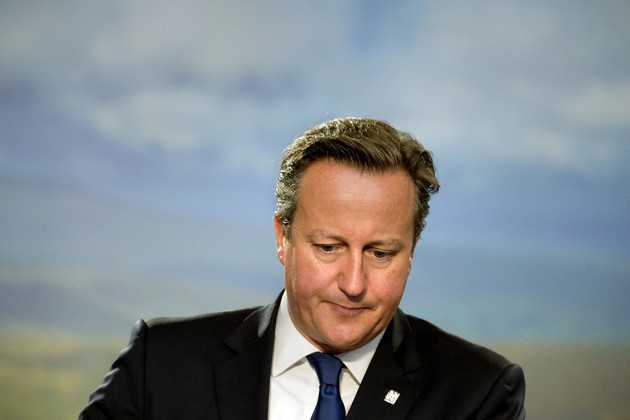 Photograph by Alain Jocard/AFP via Getty Images
Cameron in South Wales on Sept. 5
British Prime Minister David Cameron has, until now, prudently stayed out of the campaign against Scottish independence, recognizing that he is so unpopular north of the not-really-a-border that anything he says or does could make matters worse. Cameron is a Conservative, and there is only one member in the U.K.'s Parliament from his party in all of Scotland, which leans strongly to the left. "He's less popular in Scotland than Windows 8," joked a recent headline in the Guardian.
But with first one, and now two, polls showing a rough tie between "yes" and "no" on independence, Cameron has decided to campaign in Scotland after all. ReportedBloomberg on Tuesday: "David Cameron canceled his weekly Prime Minister's Questions session in London to dash to Scotland, as politicians insisted they weren't panicking about polls showing the independence referendum on a knife edge."
When politicians insist they aren't panicking, it generally means panic has reached a high pitch. And so it should: After being part of the United Kingdom for 307 years, Scotland is no longer a sure thing. In a monthly survey by TNS published today, 39 percent of Scots backed staying in the U.K., with 38 percent of them wanting independence and 23 percent undecided, Bloomberg reported. Although the TNS poll did give a 1 percentage point lead to the pro-union forces, it showed that a YouGov poll for the Sunday Times, showing a 2 percentage point lead for independence, was no fluke.
In a further gesture to win over the Scots, Cameron announced that the Saltire—Scotland's blue flag with a diagonal white cross—will fly over 10 Downing Street alongside the Union Jack until the day of the referendum, Sept. 18.
As reported by Bloomberg Businessweek's Carol Matlack, financial markets have been alarmed by the surge of support for independence. The repercussions have been felt as far away as Spain, where prices of government bonds fell on fears that a "yes" vote in Scotland could increase the chances of independence for Catalonia.
Article