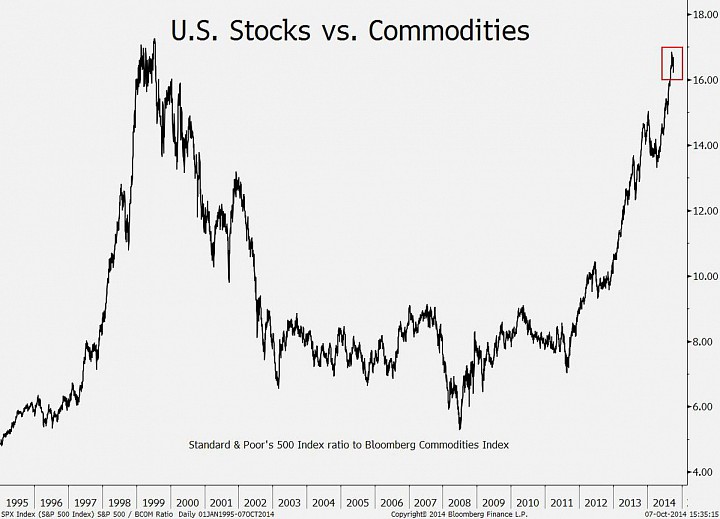 Commodities have performed so badly relative to U.S. stocks that a rebound may arrive at any time, according to Michael Hartnett, chief investment strategist at Bank of America Corp.'s Merrill Lynch unit.
The CHART OF THE DAY illustrates this by tracking the ratio between Standard & Poor's 500 Index and the Bloomberg Commodities Index, which set a 15-year high last month before retreating. Bloomberg's gauge is based on futures prices for 22 raw materials.
Falling commodity prices and a bull market in U.S. stocks caused the ratio to more than double from a low in August 2011. In the third quarter, the Bloomberg indicator fell 12 percent, its steepest quarterly decline since 2008. The S&P 500 gained 0.6 percent and set records, most recently on Sept. 18.
Gold's performance may lay the groundwork for an October reversal, Hartnett wrote two days ago in a report. This shift hinges on the metal's ability to remain above its lows in the past 18 months, the New York-based strategist wrote. Gold did this two days ago, when the price slid as low as $1,183.30 an ounce in New York and then rebounded to more than $1,200.
A commodity rebound is among this month's possible "pain trades," or market swings that are "most likely to cause the most bother to current investor positions," Hartnett wrote.
Another candidate is a falling dollar, he wrote, citing the currency's gain in the third quarter. The Bloomberg Dollar Index rose 6.7 percent, its biggest quarterly rally since 2008. The indicator tracks the dollar's performance against 10 other currencies, including the Chinese yuan and Brazilian real.