Amazon.com's AMZN second-quarter 2017 earnings per share (EPS) of 40 cents missed the Zacks Consensus Estimate of $1.40.
Shares dropped 3% in afterhours trading in response to the earnings miss. Year to date, shares of Amazon have underperformed the industry it belongs to. The stock returned 39.5% compared with the industry's gain of around 50.7%.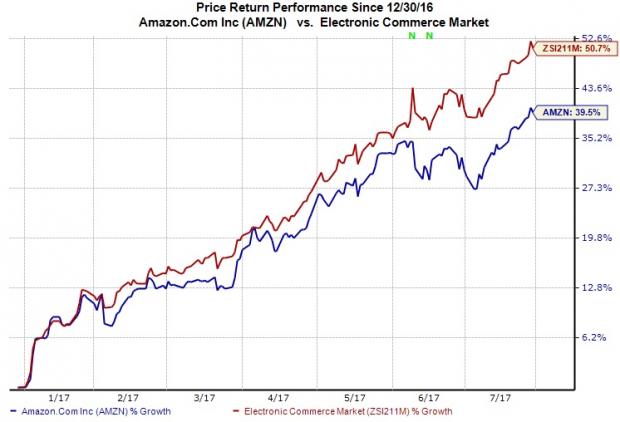 The earnings miss was primarily due to a spike in operating expenses as a result of buildout of fulfillment centers in preparation for the holiday season. Costs also escalated due to the company's increased spending on original TV shows and movies andoffline retail. Amazon Web Services (AWS) and India expansion-related expenses also resulted in higher spending.
Its global margins are already under pressure and are likely to be so at least for a few years.
Let's delve deeper into the numbers.
Revenues
Amazon reported revenues of almost $38 billion, up 6.3% sequentially and 24.8% from the year-ago quarter. Quarterly revenues were above the Zacks Consensus Estimate of $37.2 billion and the company's guidance range of $35.25–$37.75 billion. Strong cloud computing sales, higher revenues from advertising and media streaming services drove the year-over-year revenue growth.
Both product and service sales were up sequentially and year over year. Service sales grew a lot stronger than product sales from the year-ago quarter (up 42.2% compared with product sales growth of 17.2%). Revenue distribution between the two was 65%/35%.
Amazon.com, Inc. Price, Consensus and EPS Surprise
Segment Details
The North America segment accounted for around 59% of sales, representing a sequential increase of 6.6% and a year-over-year increase of 26.6%.
The International segment accounted for 30%, up 3.8% sequentially and 16.7% year over year.
The AWS segment was up 12% sequentially and a massive 42.1% year over year with revenue share at nearly 11%. AWS is gaining momentum with customers including McDonald's, Workday, Capital One, Salesforce, GE Oil & Gas, Kellogg's, Brooks Brothers, Ferrara Candy Company, GPT Group, Hoya Corporation, Lionsgate, Macmillan Publishers India, RWE Czech Republic, and Bart & Associates Inc. Amazon remains the cloud infrastructure leader, well ahead of Microsoft MSFT, International Business Machines Corporation IBM and Alphabet GOOGL.
Gross Margin
Gross margin was up 105 basis points (bps) sequentially and 130bps year over year to 38.2%.
Sequential variations in gross margin were largely mix-related. Growth in AWS had a positive impact on margin. Pricing wasalso an important factor, given the increase in product categories all over the world and Amazon's strategy of heavily discounting products and services while building position in any market.
Gross profit dollars were up 29.5% from last year. The consistently rising gross profit dollars from the year-ago periods reflects the success of Amazon's strategy.
Net income was down 72.8% sequentially and 77% year over year.
Operating Performance
Amazon's operating expenses of $13.9 billion were up 13.1% sequentially and 39.6% from the year-ago quarter. Amazon's heavy investing activities (headcount, fulfillment centers, content, etc) over the past few quarters have been driving up its costs. Cost of goods sold decreased105 bps sequentially as a percentage of sales with marketing expense increasing 50 bps, technology and content increasing 114 bps andgeneral and administrative expense increasing just 8 bps.
The net result was an operating margin of 1.7%, down 116 bps sequentially and 257 bps from the year-ago quarter. Amazon reported an operating profit of $628million compared with $1 billion in the previous quarter and $1.3 billion in the year-ago quarter.
Net Income
Amazon generated second-quarter net income of $197 million, or 0.5% of sales, compared with $724 million, or 2% in the previous quarter and $857 million, or 2.8% of sales in the same quarter last year. There were no one-time items in the second quarter. Therefore, GAAP EPS was same as pro forma EPS of 40 cents compared with $1.48 in the previous quarter and $1.78 in the year-ago quarter.
Balance Sheet and Cash Flow
Amazon ended the quarter with cash, cash equivalents and marketable securities balance of almost $21.45 billion, slightly down from the prior quarter.
The company generated $3.8 billion of cash from operations, spending $2.5 billion on fixed assets (including internal-use software and website development costs) and $633 million on acquisitions. Principal repayments of capital lease obligations were $1.2 billion in the second quarter.
Guidance
Management provided guidance for the third quarter of 2017. Revenues are expected to include a $125 million or 40 bps negative FX impact and come in around $39.25–41.75 billion. The Zacks Consensus Estimate is pegged at $40.04 billion. Operating income (loss) is expected to come in at approximately $(400) million–$300 million.
To Conclude
Amazon keeps its retail business very hard to beat on price, choice, and convenience with the help of a solid loyalty system in Prime and its FBA strategy. The company continues to push advantages exclusively to Prime members, thus encouraging them to spend more on Amazon.The company has been expanding Prime internationally to strengthen its foothold in international markets and create a launch pad for its other business. It could complement the company's current expansion efforts such as investments (in India) and acquisitions (like that of Souq.com).
AWS continues to bethe cash cow for Amazon. It has millions of customers and generates much higher margins than retail. It is the key driver of Amazon's profitability. We remain optimistic about the functionality, partner ecosystem and the experience AWS offers and believe this will lead to continued customer wins. If AWS continues to witness the same kind of success, investors can hope for significant growth going forward.
Alexa powered Echo devices are going great guns and help the company sell products and services. Alexa has already been integrated into a host of everyday devices for the digital home and there are agreements for more. Currently, Alexa is equipped with thousands of skills and can connect to any stream of business. The company is racing to build an ecosystem around Alexa to make sure that it stays well way ahead of Alphabet (GOOGL) subsidiary Google's smart assistant, Apple's Siri and Microsoft's Cortana.
Amazon has intensified its grocery push as evident from the recent acquisition of leading natural and organic foods supermarket, Whole Foods Market for $13.7 billion. The company has already gone brick-and-mortar with books and is treading the same path with other merchandise as well. It is targeting the considerably large customer base that still prefers to shop at physical stores. This is Amazon's way of tackling mounting competition and slow growth in the e-commerce space. It is a clear indication that Amazon is thinking several years down the road, at a time when e-commerce has lost much of its shine.
Currently, Amazon has a Zacks Rank #5 (Strong Sell).
You can see the complete list of today's Zacks #1 Rank (Strong Buy) stocks here.
The Hottest Tech Mega-Trend of All
Last year, it generated $8 billion in global revenues. By 2020, it's predicted to blast through the roof to $47 billion. Famed investor Mark Cuban says it will produce ""the world's first trillionaires,"" but that should still leave plenty of money for regular investors who make the right trades early.
See Zacks' 3 Best Stocks to Play This Trend >>
Want the latest recommendations from Zacks Investment Research? Today, you can download 7 Best Stocks for the Next 30 Days.
Click to get this free report
International Business Machines Corporation (IBM): Free Stock Analysis Report
Amazon.com, Inc. (AMZN): Free Stock Analysis Report
Alphabet Inc. (GOOGL): Free Stock Analysis Report
Microsoft Corporation (MSFT): Free Stock Analysis Report
To read this article on Zacks.com click here.
Zacks Investment Research