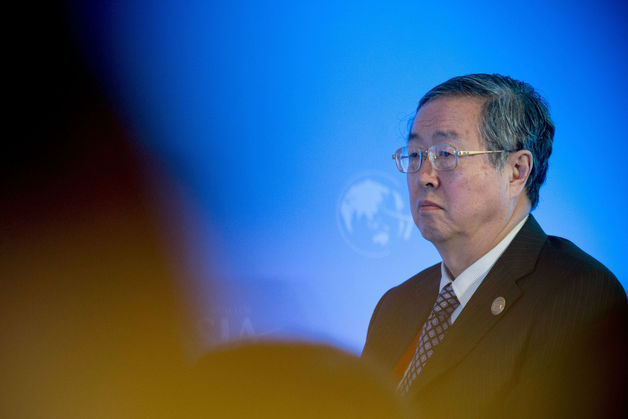 Photographer: Brent Lewin/Bloomberg
Speculation about the retirement of China central bank Governor Zhou Xiaochuan
China's stocks rose, sending the Shanghai Composite Index (SHCOMP) to its highest level since February 2013, as industrial companies advanced on speculation the government will boost spending on nuclear power projects.
Shanghai Electric (601727)Group Co., which makes generator equipment used in nuclear power plants, jumped by the 10 percent daily limit, whileDongfang Electric Corp. (600875) rallied the most this year. The government will allow four nuclear power projects to be built, the China Securities Journal reported, citing an unidentified person. China First Heavy Industries Co. headed for its highest level since May 2012. Industrial & Commercial Bank of China Ltd. led declines by Chinese companies in Hong Kong.
The Shanghai Composite Index added 0.7 percent to 2,360.15 at 1:45 p.m. local time. The gauge has surged 15 percent since end-June amid speculation an exchange link with Hong Kong and government stimulus will boost demand for stocks. The 30-day average value of shares traded in Shanghai rose to the highest level since April 2011.
"Everyone wants to be part of the action now that the upward trend seems to be certain," said Wei Wei, an analyst at West China Securities Co. in Shanghai. Prospects for mainland-traded equities are bright, even though foreign brokerages are more downbeat on H shares, Wei said.
The Hang Seng China Enterprises Index (HSCEI) of Chinese stocks traded in Hong Kong fell 0.1 percent, while the Hang Seng Index was little changed. The Hang Seng China AH Premium index climbed to 97.59, its highest level since May 12, signaling a narrowing gap between dual-listed stocks in Hong Kong and Shanghai.
Trading Accounts
The exchange link with Hong Kong is set to start next month and allows a net 23.5 billion yuan ($3.8 billion) of daily cross-border purchases. China is counting on the link's success to help liberalize its financial system, increase the role of the yuan and give its citizens more investment channels amid a slumping property market and increased risks from local wealth-management products.
A-share accounts containing assets climbed by 158,000 in the week ended Sept. 19 to 52.5 million, according to official securities data. Investors opened about 217,000 new accounts in the period, the most in more than two years, the data show.
Gauges (SHSZ300) tracking industrial and utility companies climbed more than 1.4 percent, the biggest gains among groups on the CSI 300 Index. Shanghai Electric headed for its highest close since June 2012, while Dongfang Electric jumped 7.8 percent. China First Heavy Industries rallied 9.9 percent.
Combined investment in the four coastal power plants may be about 160 billion yuan ($26 billion), the China Securities Journal said, citing unnamed analysts.
Rating Cut
ICBC dropped 1.2 percent in Hong Kong, extending its loss this year to 4 percent. China Telecom Corp. slid 3 percent.
Chinese stocks were downgraded to neutral from overweight by BNP Paribas SA, which said in a note today broader stimulus doesn't appear to be forthcoming despite continuing growth weakness. Yesterday, Goldman Sachs Group Inc. cut its 2015 economic expansion target for China to 7.1 percent from 7.6 percent, while keeping this year's estimate unchanged at 7.3 percent.
The H-share gauge has declined 1.4 percent this year and is valued at 6.8 times projected 12-months earnings, while the Shanghai Composite has risen 11 percent and trades at 8.5 times.
Separately, the government found almost $10 billion worth of fraudulent trade documents, Wu Ruilin, deputy head of the State Administration of Foreign Exchange's inspection department, said at a briefing in Beijing today.
Speculation about the retirement of China central bank Governor Zhou Xiaochuan, a champion of shifting the world's second-largest economy to greater reliance on markets, is resurfacing, focusing attention on potential successors.
Likely Replacement
With Zhou, 66, past the typical retirement age for senior officials and a Communist Party leadership meeting looming next month, social media chatter on his possible exit escalated. The Wall Street Journal said yesterday party boss Xi Jinping is considering replacing Zhou, citing unidentified officials. The China Times this month published an opinion piece on prospects for ex-securities regulator Guo Shuqing taking the job.
Six of 13 economists in a Bloomberg News survey this month cited Guo, 58, as the most likely successor when Zhou does leave. Five predicted it would be People's Bank of China Deputy Governor Yi Gang, 56. The government, which controls the PBOC, hasn't publicly signaled its intention and rounds of speculation in 2007 and 2012 that Zhou would be replaced failed to pan out.