D.R. Horton, Inc. operates as a homebuilding company. It is engaged in the acquisition and development of land; and construction and sale of residential homes in 27 states and 79 markets in the United States under the names of D.R. Horton, America's Builder, Express Homes, Emerald Homes, Breland Homes, Regent Homes, and Crown Communities.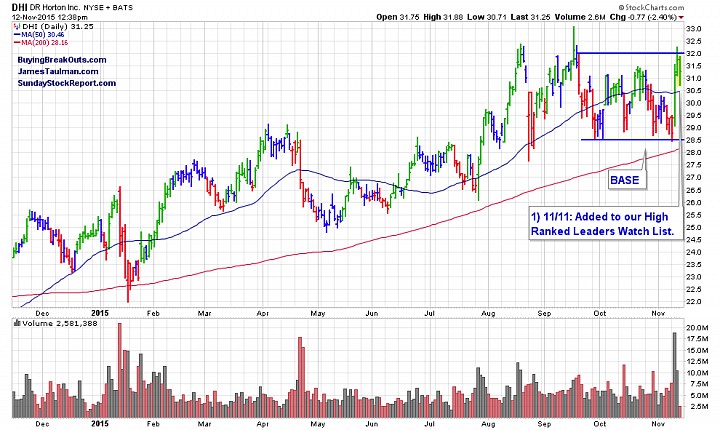 Currently there are 7 analysts that rate DHI as a buy, another 2 a strong buy, no analysts rate it a sell, and 12 rate it a hold.
The stock has about the highest ranks overall and is a leader, as it is ranked #3 in its group. LGIH is ranked #1, yet does not have a base to buy off of.
There are 367 million shares outstanding. Keep in mind that a stock with a smaller number of shares can more easily move higher with less buying.
Mutual funds and pension funds currently hold a 55% interest while the number of funds, which is reported quarterly, have been increasing for at least the past four quarters (892, 953, 976, 1043).
As far as the company's fundamentals are concerned, quarterly earnings comparisons for the past four quarters have been as follows: +8%, +5%, +88%, and +33% in the latest quarter.
Year-over-year quarterly sales comparisons have been: +38%, +38%, +37%, and +28% in the latest quarter.
Annual earnings have continually increased since 2011, and are estimated to grow +19% in 2015 and +13% in 2016.
Technically, shares are trading in a base, just off of recently made new 52-week highs and above the 50 day moving average.
I consider this ideal as there is virtually no overhead supply in the way of further possible gains, while there is sound support just below.
This leader is trading -5.4% off of recently made 52 week highs, while being just +2.6% above support of the 50 day moving average.
Any trading above our TRIGGER PRICE of $32.47 while the day's volume is at least on pace to be +50% above average (50 DAV X 1.5 = 9,408,300), would have this leader flashing our technical buy signal up to the MAX BUY PRICE of $34.09.
This stock is option-able.