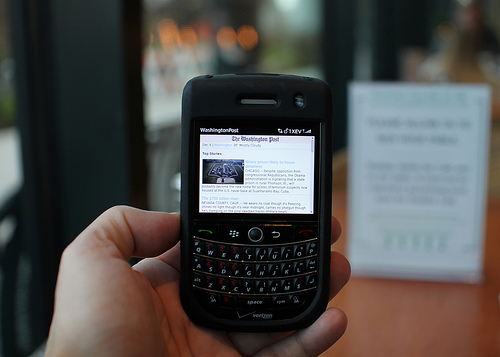 Blackberry Limited (NASDAQ: BBRY) is currently trading at $6.69 after opening at $6.80. Yesterday's close hit a high of $7.03. Shares are moving at a higher average volume, hitting 9,192,453. 
Currently, the company has a market cap of $3.53 million. 
Quarterly Earnings
Blackberry Limited released quarterly earnings today, coming short of analysts' expectations by -$0.4 per share. The company posted $0.13 per share, according to Money Flow Index, with a revenue of $490 million for the quarter in total. 
This news isn't particularly great for the failing technology company, which has posted major losses over more than 30% over the past year.  Shares hit a 52-week high in January and low in August, trading high at $12.63 and low at $6.41.
New Products Coming Soon
Blackberry's newest product, the Venice, has received a lot of hype recently, with the ability to run Andriod (NASDAQ: GOOGL) software, combined with Blackberry's much-loved QWERTY keyboard. The device also has a 5.4 inch touch screen display. 
Able to create shortcuts for a variety of business related tasks, combined with Google's enormous Play Store, this device has the capability to cover all consumer needs. However, with negative responses to many of Blackberry's most recent devices, the presumption that this device will be a hit remains low. 
For more business and financial news, click here.