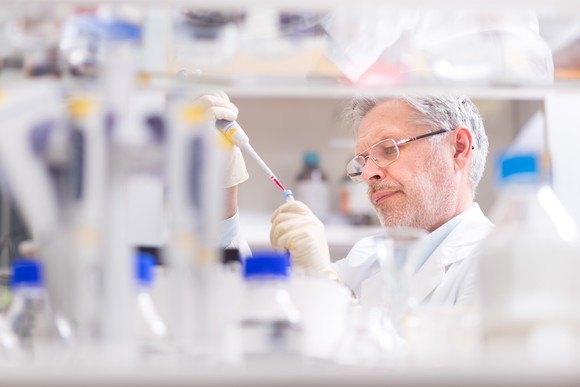 ImmunoGen (NASDAQ:IMGN) reported earnings on Friday, but except for its cash runway, the biotech's financials aren't nearly as important as plans for its pipeline.
ImmunoGen results: The only number that really matters
| Metric | Sept. 30, 2016 | June 30, 2016 | QOQ Decline |
| --- | --- | --- | --- |
| Cash and equivalents | $196 million | $245 million | (20%) |
What happened with ImmunoGen this quarter?
At the end of September, management decided to reduce its workforce by 17%, focusing on mirvetuximab soravtansine, IMGN779, and IMGN632 while partnering its non-core B-cell lymphoma program to reduce its cash burn. Management thinks the new focus will push its cash runway through its interim peak at phase 3 data for mirvetuximab soravtansine, extending into mid-2018.
That phase 3 trial, dubbed FORWARD I, for mirvetuximab soravtansine in platinum-resistant ovarian cancer is on track to begin before the end of the year.
ImmunoGen expects to end the year with $165 million and $170 million in the bank, implying a cash burn rate of $26 million to $31 million, but that rate will increase in coming quarters as it ramps up its spending on clinical trials.
Its phase 2 trial, FORWARD II, which looks at mirvetuximab soravtansine in combination with other treatments, is still enrolling...
More