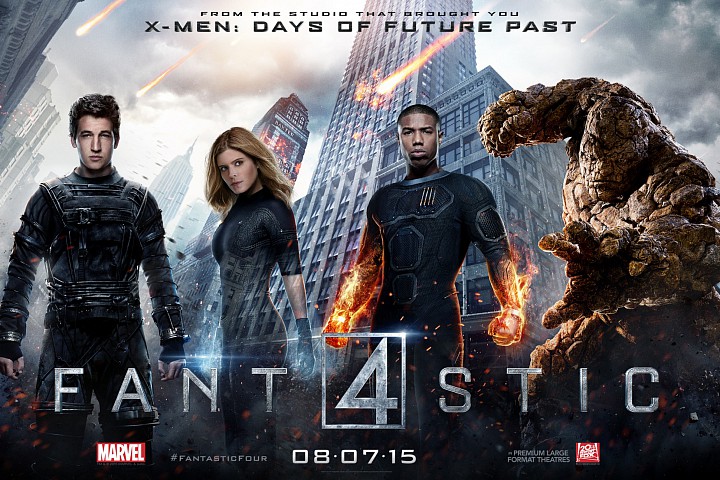 Thumbnail: The third attempt to start a Fantastic Four franchise goes where both prior origin stories have gone before, offering all set-up and saving the pay-off for the likely non-existent sequel.
The Box Office:
Like a lot of would-be comic book blockbusters over the last few years, I've spent so much time and ink discussing their prospects and their histories that there isn't much left to discuss when the actual movie review comes down the pike. So with that said, and with most readers probably caring more about the review then the box office guestimation, I'll be brief. The Fantastic Four comes courtesy of 20th Century Fox and is their second attempt to mold a franchise out of Marvel's so-called "first family." The first attempt was a moderate success, with Tom Story's bright and campy Fantastic Four earning $330m worldwide off a $55m opening weekend on a $100m budget (it basically ended a non-existent summer "slump" back in 2005). Two years later, Fantastic Four: Rise of the Silver Surfer earned slightly better reviews but grossed just $287m worldwide on a $130m budget.
It's no secret that Fox mostly made this film both as a way to stay in the Marvel game beyond just X-Men and to keep the rights to the characters from going back to Marvel. To do this, they picked director Josh Trank, who was fresh off the critically and commercially successful "superhero found footage movie" Chronicle. But as you surely know, the production has been plagued by bad buzz almost from the start, with rumors of wild diversions from the source material along with gossip about Trank's alleged behavior on and off the set that presumably got him bounced from a Walt Disney Star Wars spin-off movie earlier this year. The film has gone through massive reshoots and comes to audiences as something of a wild card.
Will audiences responded to a dark and vaguely horror-based variation on the comic book starring people (Miles Teller, Michael B. Jordan, Kate Mara, etc.) that are known without being "stars?" Will audiences here and abroad care about the buzz or the reviews? Will Fox merely throw in the towel for a sequel and simply use the cast and established narrative as some kind ofX-Men crossover, which was really the grand plan all along had things worked out differently? The film is tracking at $45 million for the weekend, which is okay for a $120m comic book movie with no real stars. If the film does, for example, a quick kill $45m debut and $100m total domestic, along with say $200m overseas (possible if not outright probable considering Fox's foreign muscle), then the film will still be in that weird limbo of not being a flop but not really being a hit by virtue of failing to kick-start the franchise. But that's a conversation for another day. For more about the film, goHERE,HERE,HERE,HERE,HERE, andHERE.
The Review:
It would be easy to just write off Fantastic Four as a laughable disaster or an epic whiff. But the truth is more complicated, and arguably more frustrating than that. Truth be told, there is 1/3 of a good movie sprinkled here and there throughout. The opening sections show genuine promise, with strong acting from our leads and a nugget of Amblin-esque wonder hinting at Cronenbergian horror to come. And there are moments of light, with...
More