Major biotech companies reported earnings results over the last five trading days. While companies like Amgen AMGN and Vertex VRTX topped expectations, it was a mixed quarter for companies like Celgene CELG, Alexion (Read more: Alexion Tops Q3 Earnings, Lags Sales, 2017 View Up) and BioMarin (Read more: BioMarin Q3 Loss Narrows, Profit Guidance Raised).

Recap of the Week's Most Important Stories

A Look at Earnings Results: It was all about earnings this week with several key names reporting third quarter results. Amgen topped expectations but witnessed a year-over-year decline in revenue. The company also announced that it will not be developing its oral CETP inhibitor, AMG 899, and is exploring out-licensing opportunities for the candidate (Read more: Amgen Q3 Earnings Top, Sales Decline Y/Y, Stock Falls). Meanwhile, Celgene plunged 16.4% following the release of third quarter results – although Celgene topped earnings estimates, revenues fell short. Moreover, the company lowered its 2017 outlook for Otezla sales as well as its total revenue and earnings outlook for 2020 reflecting the impact of the discontinuation of GED-0301 for Crohn's disease, the market dynamics impacting Otezla, and the opportunities and risks associated with the late-stage data read-outs scheduled for 2018 (Read more: Celgene Tops Q3 Earnings, Sales Miss, Updates View).

Vertex, which has a strong presence in the cystic fibrosis ("CF") market, reported a strong quarter with earnings and revenues surpassing expectations. The company also raised its guidance for CF franchise sales (Read more: Vertex Beats on Q3 Earnings & Sales, Raises 2017 View). Vertex has gained 98.5% year to date, outperforming the industry's 3.3% rally.

AbbVie ABBV topped earnings estimates while revenues were in-line (Read more: AbbVie Q3 Earnings Top, Revenues In Line, View Up). Gilead surpassed expectations but the company's hepatitis C virus ("HCV") franchise remains under immense pressure (Read more: Gilead Down on Weak HCV Sales Despite Q3 Earnings Beat).

Incyte's Epacadostat to be Studied in Early Lung Cancer with Imfinzi: Incyte Corporation INCY reported strong third quarter results and also announced the expansion of its clinical trial collaboration with AstraZeneca. The companies said that they will evaluate the efficacy and safety of Incyte's investigational selective IDO1 enzyme inhibitor, epacadostat, in combination with AstraZeneca's PD-L1 inhibitor, Imfinzi, compared to Imfinzi alone.

The companies will conduct a late-stage study in patients with locally-advanced (stage III), unresectable non-small cell lung cancer (NSCLC) whose disease has not progressed following platinum-based chemotherapy concurrent with radiation therapy ("CRT"). The study, which will be co-funded by the companies, will be conducted by AstraZeneca with patient enrolment scheduled to commence in the first half of 2018.

We note that Incyte has a clinical trial collaboration with Merck as well as Bristol-Myers Squibb for epacadostat. Incyte is a Zacks Rank #3 (Hold) stock. You can see the complete list of today's Zacks #1 (Strong Buy) Rank stocks here.

Voyager Down as Sanofi Exits Parkinson's Disease Program: Voyager Therapeutics, Inc.'s VYGR shares were down 7.4% on Sanofi's exit from the company's VY-AADC program for advanced Parkinson's disease. Under the deal, signed in February 2015, Sanofi had an exclusive option for ex-U.S. development and commercial rights to VY-AADC. The deal terms included upfront payments of $100 million as well as future potential development and sales milestone payments of up to $745 million, plus tiered royalties on product sales.

According to Voyager, Sanofi decided to exit the deal as the option did not include rights in the United States. With Voyager gaining global rights to the VY-AADC program for advanced Parkinson's disease, the company said that it remains on track to dose the first patient during the second quarter of 2018.
GW Finishes Rolling Drug Submission for Epilepsy Drug: GW Pharmaceuticals plc GWPH announced that it has completed the rolling submission of a New Drug Application ("NDA") in the United States for Epidiolex (cannabidiol) as adjunctive treatment of seizures associated with Lennox-Gastaut syndrome ("LGS") and Dravet syndrome. LGS and Dravet syndrome are two highly treatment-resistant forms of childhood-onset epilepsy and GW has Rare Pediatric Disease and Orphan Drug designations for both indications in the United States. The Dravet syndrome indication has fast track status as well from the FDA. Timely approval would allow the company to launch the product in 2018.

Performance
Medical - Biomedical and Genetics Industry 5YR % Return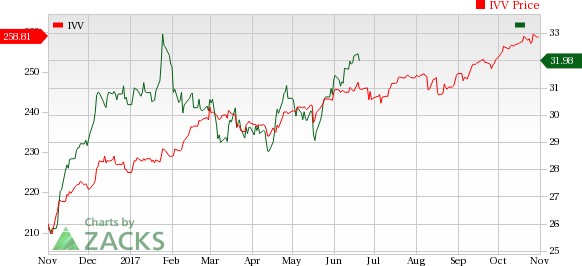 The NASDAQ Biotechnology Index declined 3.3% over the last five trading sessions. Among major biotech stocks, Celgene lost 16.1% reflecting a sell-off following the release of third quarter results while Alexion was down 12.4%. Over the last six months, Vertex was up 23.6% while Celgene was down 18.6% (See the last biotech stock roundup here: Biogen Tops Q3 Earnings, Gilead's CAR T Drug Gets FDA Nod).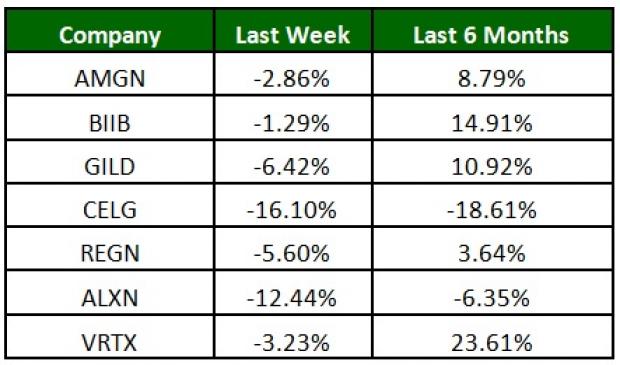 What's Next in the Biotech World?

Focus will remain on earnings results from several mid- and small-cap biotech companies.

More Stock News: This Is Bigger than the iPhone!

It could become the mother of all technological revolutions. Apple sold a mere 1 billion iPhones in 10 years but a new breakthrough is expected to generate more than 27 billion devices in just 3 years, creating a $1.7 trillion market.

Zacks has just released a Special Report that spotlights this fast-emerging phenomenon and 6 tickers for taking advantage of it. If you don't buy now, you may kick yourself in 2020.

Click here for the 6 trades >>
Want the latest recommendations from Zacks Investment Research? Today, you can download 7 Best Stocks for the Next 30 Days.
Click to get this free report
AbbVie Inc. (ABBV): Free Stock Analysis Report
GW Pharmaceuticals PLC (GWPH): Free Stock Analysis Report
Vertex Pharmaceuticals Incorporated (VRTX): Free Stock Analysis Report
Celgene Corporation (CELG): Free Stock Analysis Report
Amgen Inc. (AMGN): Free Stock Analysis Report
Incyte Corporation (INCY): Free Stock Analysis Report
Voyager Therapeutics, Inc. (VYGR): Free Stock Analysis Report
To read this article on Zacks.com click here.
Zacks Investment Research