This seemed highly appropriate...
December Rate Hike odds surged from 34% to 48%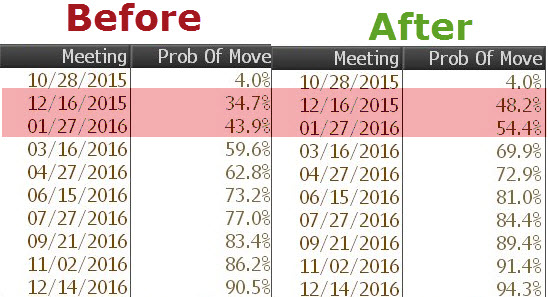 Let's start with the post-FOMC reaction...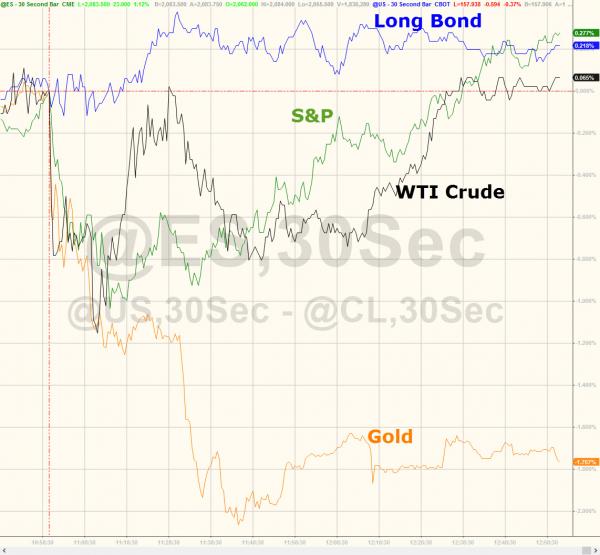 The chart to explain it all... The October rally after crappy payrolls was on "no rate hikes" and then today we drop and then rip higher on looming rate hikes... "normal"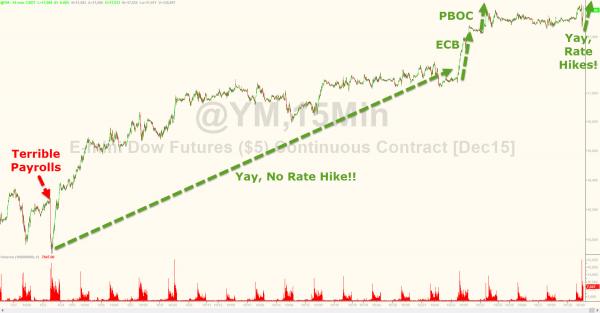 As one bright spark explained on CNBC - exposing the CONfidence job of reflexivity:
"we are rallying because Fed said it is more likely to raise rates which must mean the economy is doing better" - r u fucking kidding me!!!!

— Tim Backshall (@credittrader)

https://twitter.com/credittrader/status/659453319719424000
Everything fundamentally worse since September... so buy stocks (because of the delay in rate hikes)... but today we buy stocks because hiking rates must mean everything is awesome...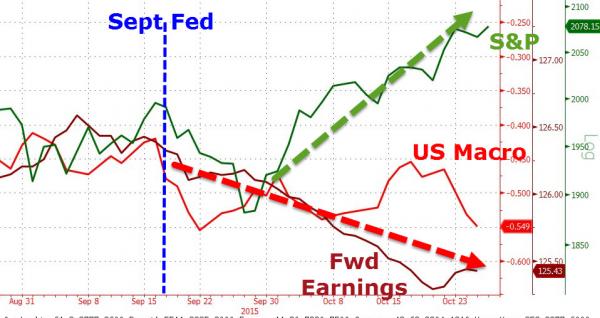 So let's look close up at today's utter insanity...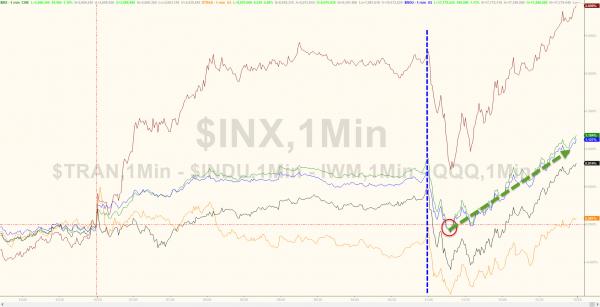 Highlighting the Post-FOMC dump'n'pump...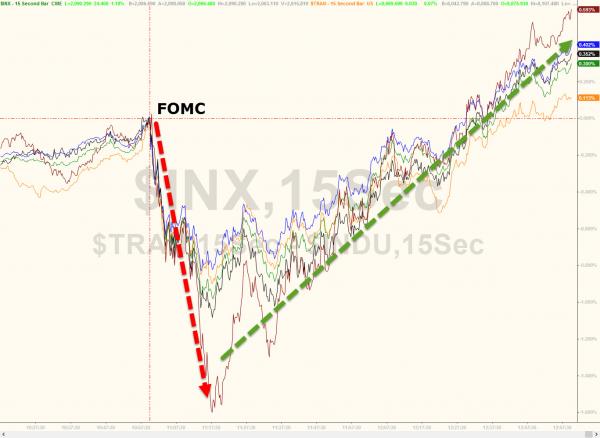 Which dragged stocks red for the week, before the panic-buying lifted them higher...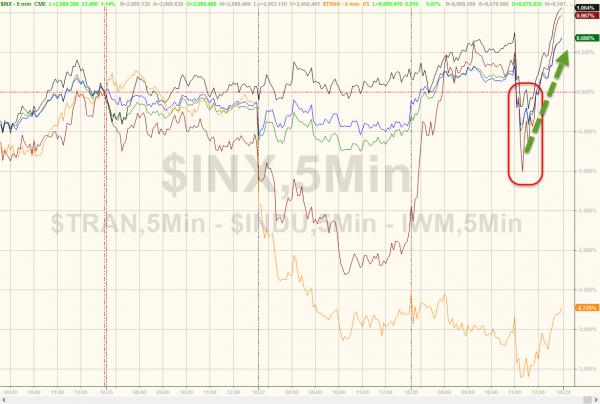 Financials (and Energy) Sectors were exuberant post-FOMC...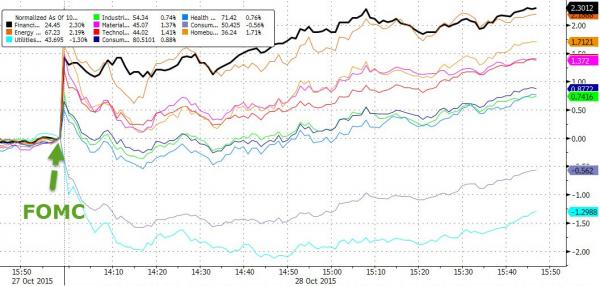 Trannies and Crude perfectly recoupled (perhaps explainig crude's ramp)...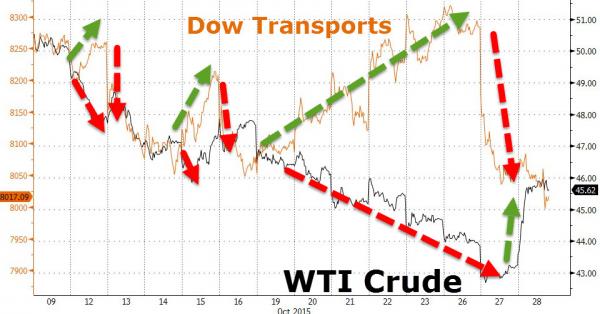 Russell 2000 melted up perfectly to 1167 before tumbling once again - which appears to be the most-important level in the world for Small Caps..

Amid a huge double-short-squeeze day...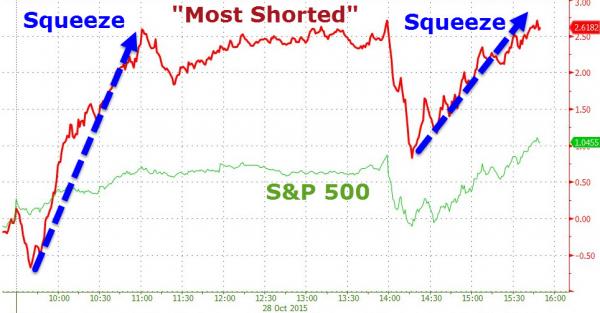 *  *  *
Treasury yields were higher on the day, though it is clear that the long-end dramaticaly outperformed as 2Y blew notably  higher...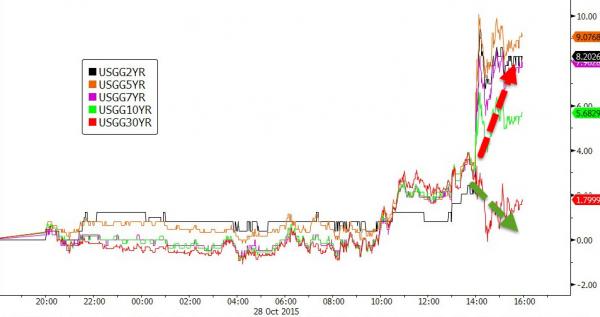 Which sent 2s30s tumbling to 2-month lows...erasing China Deval Steepening...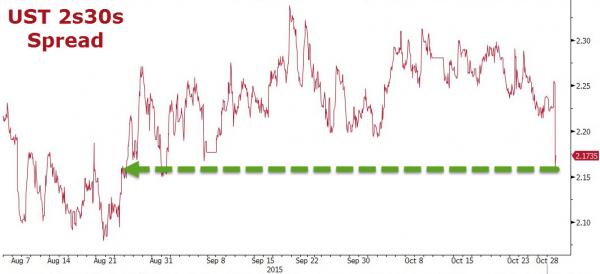 The Dollar soared after The FOMC Statement...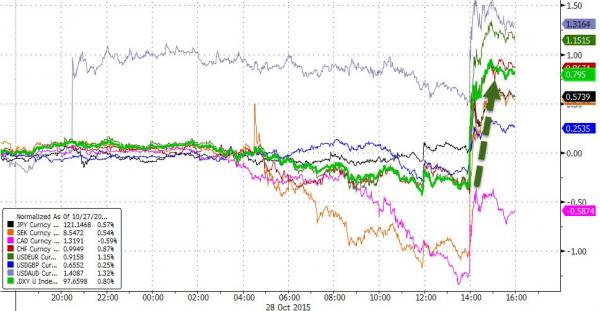 Smashing EURUSD back to a 1.09 handle and erasing the China Deval move...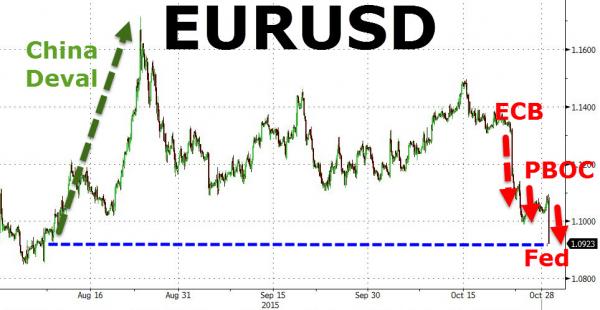 Finally quite a day in commodity land...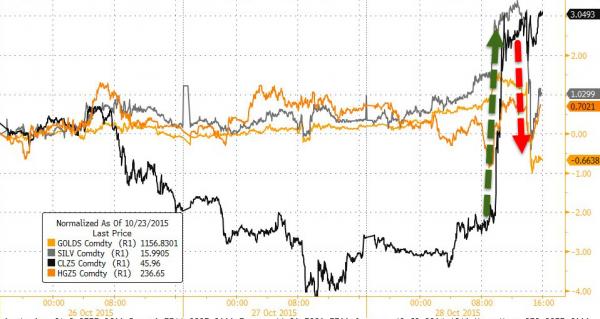 With Gold & Silver breaking above their 200DMAs, before crashing back...
And crude going crazy...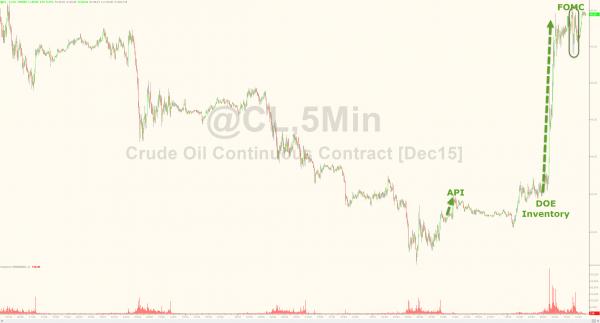 Quite bluntly, today's farcical vertical buying panic feels like pure manipulation to ensure the propaganda that a Fed raising rates is a good thing - when everyoine 'knows' there is nothing fundamental behind it. At the end of the day, The Dow has surged badck to unchanged for 2015...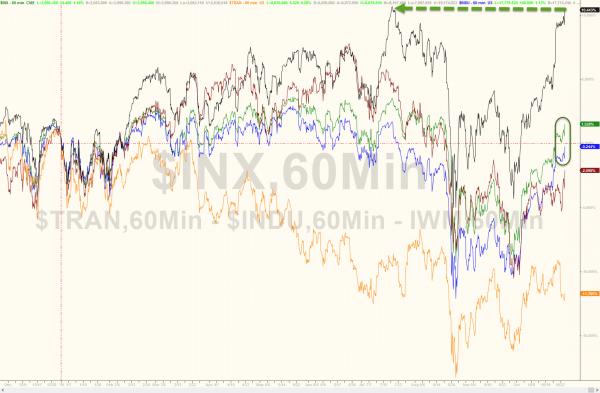 Charts: Bloomberg