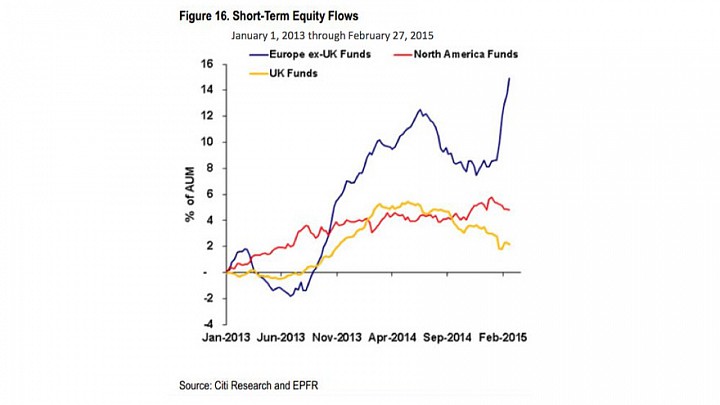 Citi Research, EPFR, DoubleLine
Money rushes toward European stocks in particular lately.

Ahead of one of the most anticipated financial events in the world right now, investors have been selling U.S. stocks—or at least getting pickier.
The realization that U.S. rates are going higher—eventually, many say, this year—while other regions policies' head in the other direction has helped trigger real shifts in asset allocations. Investors have piled into European equities as that region ratchets up its stimulus efforts and its own interest rates look likely to stay depressed.
Has that leave-America-for-Europe trade become too crowded? No, " Go with the flow," said a team of Barclays analysts led by Dennis Jose in a recent note. The shift of "funds from the U.S. to Europe is not at an extreme and could have further to go," the note said.
Heidi Richardson, a global investment strategist for BlackRock, also doesn't think the enthusiasm over European stocks is overdone. "It was such an overlooked asset class for the past few years, so I don't think we've gotten to the point where it's a crowded trade," she said.
http://www.marketwatch.com/story/why-investors-love-europe-a...