Observations
The slightly higher than expected July ADP Private Employment report at 179,000 implies a slightly better than expected July Non-farm Payrolls report this Friday. Consensus for Non-farm Payrolls is 185,000 versus 287,000 in June.
StockTwits Released Yesterday @EquityClock
As economic data continues to deteriorate, recession risks appear higher
Technical action by S&P 500 stocks to 10:15 AM: Quietly bearish. Breakout: $ICE. Breakdowns: $HBI, $NBL, $EXR
Editor's Note: After 10:15 AM EDT, Valero and Scripps broke resistance and Southern Companies broke support.
Nice breakout by $SAP.CA above $42.35 to an all-time high on higher than expected earnings.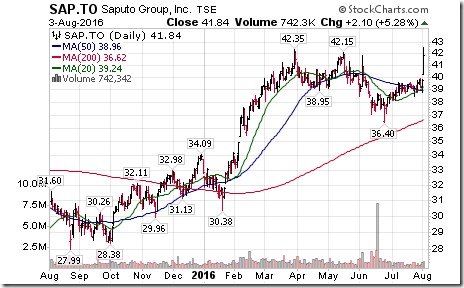 Trader's Corner
Daily Seasonal/Technical Equity Trends for August 3rd 2016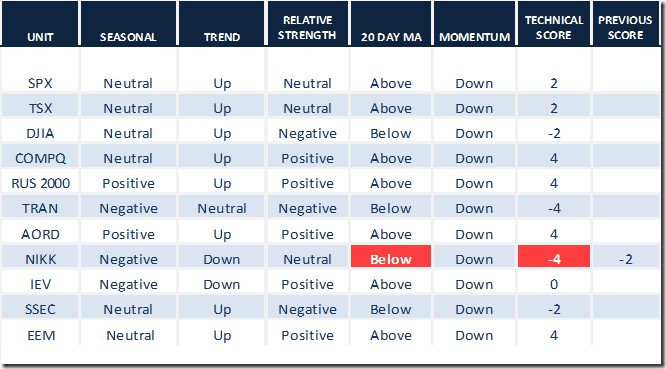 Green: Increase from previous day
Red: Decrease from previous day
Daily Seasonal/Technical Commodities Trends for August 3rd 2016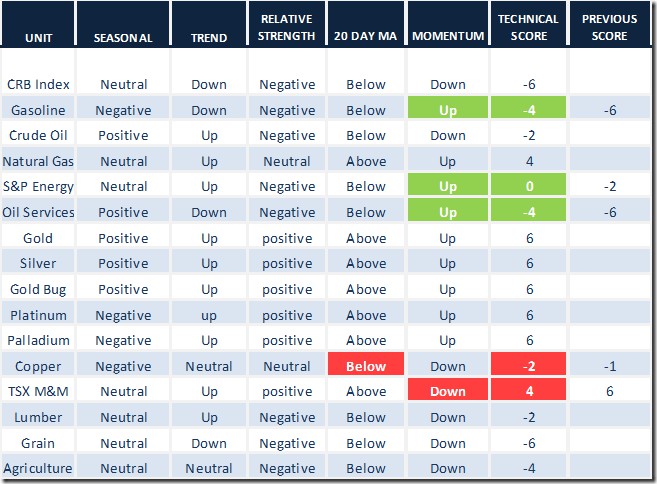 Green: Increase from previous day
Red: Decrease from previous day
Daily Seasonal/Technical Sector Trends for August 3rd 2016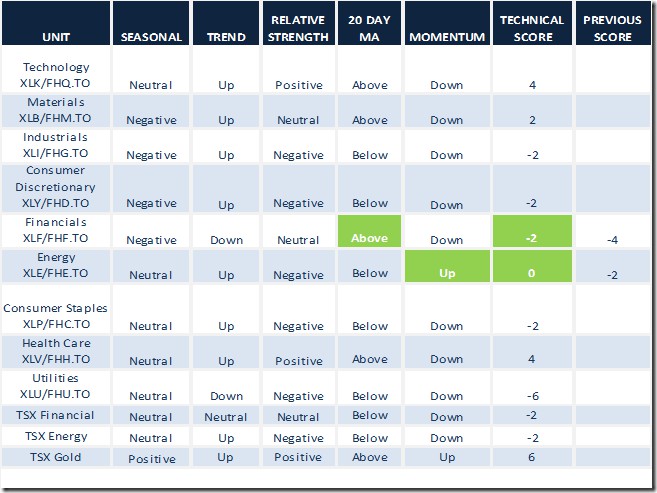 Green: Increase from previous day
Red: Decrease from previous day
Adrienne Toghraie's "Trader's Coach" Column

It Has Always Been That Way
By Adrienne Toghraie, Trader's Success Coach
Many people throughout time have justified that their behavior is right by saying, "It has always been that way." I doubt that those who have used this excuse gave thought to the fact that someone at some time had to be the first one who started that behavior. Would you agree that the person who started it was a genius, an innovator, delusional or needed to control others? When you make choices in your trading that you have not personally developed, or have more rules than are necessary to make money, question the logic of those rules.
Here is an old joke/story that proves my point:
The roasting pan
A husband was watching as his wife was preparing a roast for dinner. Just before she put the roast in the roasting pan she sliced the end off an inch and threw it in the garbage. He asked his wife why she would do such a wasteful thing, and she said it was because she learned it from her mother whose roasts turned out perfectly. That evening at the family dinner the husband asked his mother-in-law the same question that he posed to his wife. Her answer was the same. The husband called his wife's grandmother and asked her the same question. Her response was, "It's because I have a small roasting pan."
The fifty thousand dollar system
One of the best traders I ever met was producing over three hundred percent with her trading system. When she showed what she had been doing to a few traders, they asked if they could purchase it. She said it would take fifty thousand dollars for her to sell it to anyone. Over a period of time several people took her up on her flippant offer. Three of those traders I knew personally.
The next year market conditions changed and that system was no longer a viable money making system. Two of the people continued to try to make the system work. The third person made the system his own by putting together my Trader's Business Plan using the system that he purchased. The contingency planning is what saved him from the large losses the other traders endured. He readjusted the strategy and made it work. While it was not at the same level of profit, it still produced over fifty percent.
Trust but verify
It is not a good idea to go through life not trusting yourself or others, but before you give your time, energy and money to any person for their strategy:
1. Talk to someone who is using the strategy to find out if you have the same resources as they do, and if you would be working under similar conditions, to get the same results.
2. Act is if you are the innovator of that strategy proving to yourself that you can earn about the same rate of profit with simulated trading.
After you have purchased the strategy
3. Insert that strategy into your business plan.
4. Within that business plan, have contingencies for every situation with the best possible outcome.
5. Notice when market conditions change or when you change, so that you can make the necessary adjustments to the strategy.
Conclusion
While it is a good idea to take the tried and true into consideration, it is also important that within that understanding you allow for your own innovations. Just because something has "Always been that way," does not mean that it is the best idea for you.
Visit TradingOnTarget.com for a free newsletter and
more articles by Adrienne Toghraie, Trader's Success Coach
Special Free Services available through www.equityclock.com
Equityclock.com is offering free access to a data base showing seasonal studies on individual stocks and sectors. The data base holds seasonality studies on over 1000 big and moderate cap securities and indices. To login, simply go to http://www.equityclock.com/charts. Following is an example:
Editor's Note: Hurricane season is approaching. However, U.S. inventories are high. Both are key influences on natural gas prices during the next few weeks.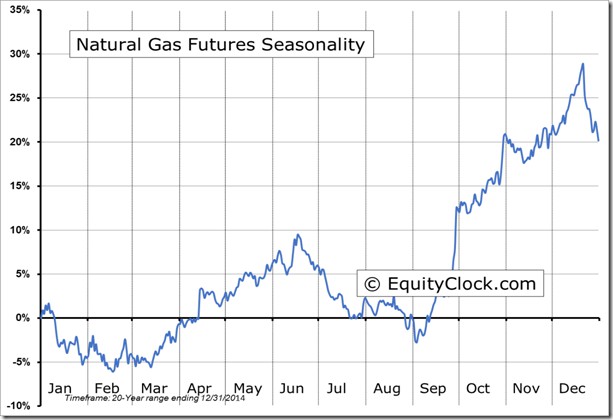 S&P 500 Momentum Barometer
The Barometer added 3.20 to 68.60. It remains intermediate overbought and trending down.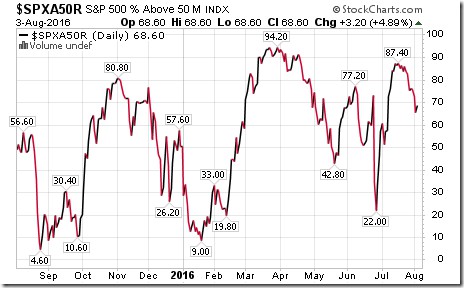 TSX Composite Momentum Barometer
The Barometer added 2.15 to 63.52. It remains intermediate overbought and trending down.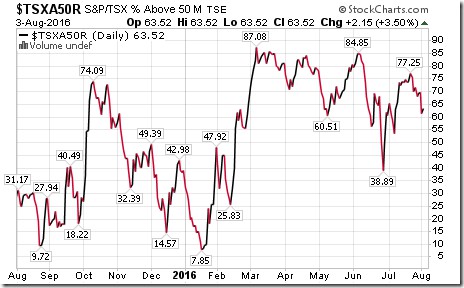 Disclaimer: Seasonality and technical ratings offered in this report by www.timingthemarket.ca and www.equityclock.com are for information only. They should not be considered as advice to purchase or to sell mentioned securities. Data offered in this report is believed to be accurate, but is not guaranteed