Tableau Software, Inc. DATA justreleased its second-quarter 2017 financial results, posting a loss of $0.54 per share and revenues of $212.9 million. Currently, DATA is a Zacks Rank #3 (Hold) and is up 5.10% to $67 per share in after-hours trading shortly after its earnings report was released.
Tableau:
Missed earnings estimates. The company posted a loss of $0.54 per share, missing the Zacks Consensus Estimate of a loss of $0.49 per share.
Beat revenue estimates. The company saw revenue figures of $212.9 million, topping our consensus estimate of $211 million.
Tableau's second-quarter revenue jumped 7% year-over-year from $198.5 million. The company posted total annual recurring revenue of $483.6 million, which was up 47% from the year-ago period.
The company posted a second-quarter GAAP operating loss of $44.9 million, down from $46.9 million last year. Tableau's net loss per diluted common share was also lower year-over-over.
Annual recurring subscription revenue climbed 175% year-over-year to $103.5 million. Ratable license bookings accounted for 37% of total license bookings, compared to 16% last year.
Tableau repurchased $20 million or 319,675 shares of outstanding Class A common stock. The company introduced new subscription pricing for all of its products in April, which helped to reduce initial costs for customers.
"Customers accelerated their adoption of our subscription offerings in Q2, and have embraced subscription even faster than we had projected," President and CEO Adam Selipsky said in statement. "The move to a subscription model represents our ongoing commitment to helping our customers adopt and scale Tableau with greater flexibility and reduced risk."
Here's a graph that looks at Tableau's Price, Consensus and EPS Surprise history:
Tableau Software, Inc. Price, Consensus and EPS Surprise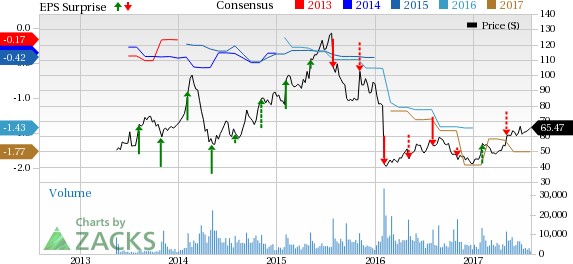 Tableau Software, Inc. Price, Consensus and EPS Surprise | Tableau Software, Inc. Quote
Tableau Software, Inc. engages in providing analytics and data visualization software. The company offers Tableau Desktop, Tableau Server and Tableau Public. It also provides related maintenance and support, and professional and training services. The Company's product helps a single user on a laptop analyze data from a simple spreadsheet, or to enable thousands of users across an enterprise to execute queries against databases. Tableau Software, Inc. is headquartered in Seattle, Washington.
Check back later for our full analysis on Tableau's earnings report!
More Stock News: Tech Opportunity Worth $386 Billion in 2017
From driverless cars to artificial intelligence, we've seen an unsurpassed growth of high-tech products in recent months. Yesterday's science-fiction is becoming today's reality. Despite all the innovation, there is a single component no tech company can survive without. Demand for this critical device will reach $387 billion this year alone, and it's likely to grow even faster in the future.
Zacks has released a brand-new Special Report to help you take advantage of this exciting investment opportunity. Most importantly, it reveals 4 stocks with massive profit potential. See these stocks now>>
Want the latest recommendations from Zacks Investment Research? Today, you can download 7 Best Stocks for the Next 30 Days.
Click to get this free report
Tableau Software, Inc. (DATA): Free Stock Analysis Report
To read this article on Zacks.com click here.
Zacks Investment Research