Summary
This Seeking Alpha Eye on Tech column looks at a Wohlers Associates report indicating that the 3D printing/additive manufacturing industry saw solid 2015 growth.
Wohlers notes the desktop and metal printing markets grew strongly, as did the number of industrial printer makers.
While many customers are working through excess supply, 3D printing adoption appears to still be growing at a healthy rate.
As investors in 3D Systems (NYSE:DDD), Stratasys (NASDAQ:SSYS), ExOne (NASDAQ:XONE), and Voxeljet (NYSE:VJET) can vouch, 2015 was a rough year for many parts of the 3D printing/additive manufacturing industry, as excess capacity at many industrial clients led to major order cutbacks. But according to this year's edition of the industry's closely-watched Wohlers Report, total sales still grew at a healthy clip.
Wohlers Associates estimates total additive manufacturing product/service revenue rose 25.9% in 2015 to $5.165B. The growth rate was below the 33.8% CAGR delivered during the prior three years, but nonetheless, contrasts greatly with some of the weak numbers 3D printing firms delivered for the second half of 2015.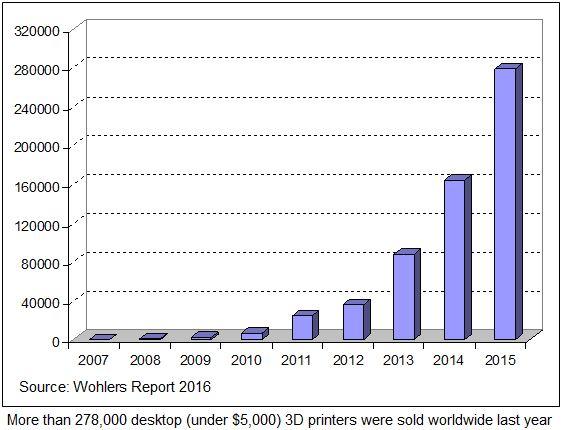 Desktop 3D printer sales
Metal...
More