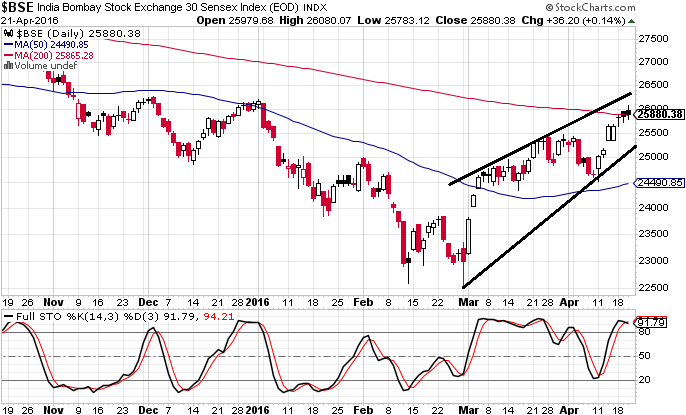 On Friday, April 22, Indian benchmarks showed negative performance as investors decided to take profit.
Today, data on the country's currency reserves are due out during the second half of the day.
The Nifty 50 ticked down 0.16% to 7,899.30, while the BSE Sensex 30 eased 0.16% to 25,838.14.
Among components of the Nifty 50, HindustanUnilever,AsianPaints,and HousingDevelopmentFinance underperformed the market, each losing over 1.5%. SBI,MarutiSuzukiandBankofBaroda paced the gains, each adding over 2.6%.
Among the BSE Sensex 30 components, HindustanUnilever,SunPharmaandHousingDevelopmentFinance led the decliners, while SBI,MarutiSuzukiand Oil & Natural Gas outperformed the broader market.
On the currency market, USD/INR edged up 0.14% to 66.57, while EUR/INR eased 0.01% to 75.051. The 10-yearbondyieldreached 7.463%.
India's largest power plant equipment producer Bharat Heavy Electricals dropped for a second straight session.
India's largest drug maker by market capitalization Sun Pharmaceutical Industries slid 1.52%, the biggest fall in the last two weeks.
The largest Indian mobile carrier by subscriber base Bharti Airtel retreated 1.16%, touching a one-week low.
Energy company Reliance Industries edged down 0.21%. According to analysts' expectations, the company may report revenue of INR 70.2 bn in the fourth quarter.
HDFC Bank edged up 0.09% as analysts estimate its Q4 profit is likely to climb 21% to INR 34 bn.
Steel company TataSteel was off 0.25% on news the UK government will acquire a 25% stake in its UK unit.
From a technical standpoint, the BSE Sensex 30 traded near the resistance level within the range of 25,840-25,900. Stochastic lines are pointing south and have reached overbought territory. This means a reversal may be in the offing.