Have you been eager to see how Encana Corp. ECA – one of the largest gas producers in North America – performed in Q3 in comparison with the market expectations? Let's quickly scan through the key facts from this Calgary, Alberta-based behemoth's earnings release this morning:
About Encana: Encana is a focused pure-play natural gas exploration and production company. It holds a highly competitive land and resource position in a number of the region's most promising shale and tight gas resource plays. This provides the company with a low risk, long-life, and sustainable growth profile.
Zacks Rank & Surprise History: Currently, Encana has a Zacks Rank #3 (Hold) but that could change following its third quarter 2017 earnings report which has just released. You can see the complete list of today's Zacks #1 Rank (Strong Buy) stocks here.
Coming to earnings surprise history, the company has an impressive record: the company has beaten estimates in each of the last four quarters.
Estimate Revision Trend: Investors should note that the earnings estimate revisions for Encana was revised downwards by 28.6% in the last 60 days. The Zacks Consensus Estimate remained the same over the last 7 days.
Encana Corporation Price and EPS Surprise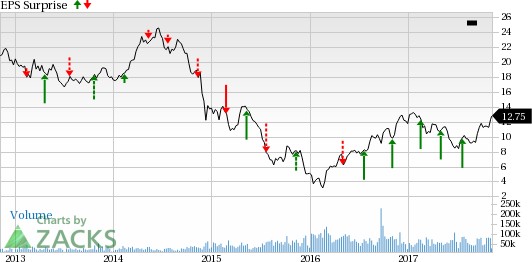 Encana Corporation Price and EPS Surprise | Encana Corporation Quote
We have highlighted some of the key details from the just-released announcement below:
A Lower-than-Expected Profit: Encana announced operating earnings per share of 2 cents, below the Zacks Consensus Estimate of 5 cents.
Revenue Surpassed Estimates: Total revenues came in at $861 million, which outperformed the Zacks Consensus Estimate of $827 million.
Key Stats: Quarterly natural gas production declined approximately 29% year over year to 939 million cubic feet per day, while liquids production rose 9% year over year to 127.5 thousand barrels per day.
Encana's realized natural gas price were $2.23 per thousand cubic feet, up 10.4% from the year-ago quarter level of $2.02. Meanwhile, realized liquids price rose marginally to $41.86 per barrel from $41.82 in the third quarter of 2016.
Share Performance: Encana has gained 33.8% in the third quarter compared with the 18.1% growth of its industry.

Check back later for our full write up on this Encana earnings report later!
Wall Street's Next Amazon
Zacks EVP Kevin Matras believes this familiar stock has only just begun its climb to become one of the greatest investments of all time. It's a once-in-a-generation opportunity to invest in pure genius.
Want the latest recommendations from Zacks Investment Research? Today, you can download 7 Best Stocks for the Next 30 Days.
Click to get this free report
Encana Corporation (ECA): Free Stock Analysis Report
To read this article on Zacks.com click here.
Zacks Investment Research