SolarCity (SCTY) has been sliding consistently in August. It seems like the market is not impressed with the SolarCity-Tesla (TLSA) merger. SCTY is now trading near the low on the year, in the 16-16.50 area. 

SCTY Daily Chart 9/13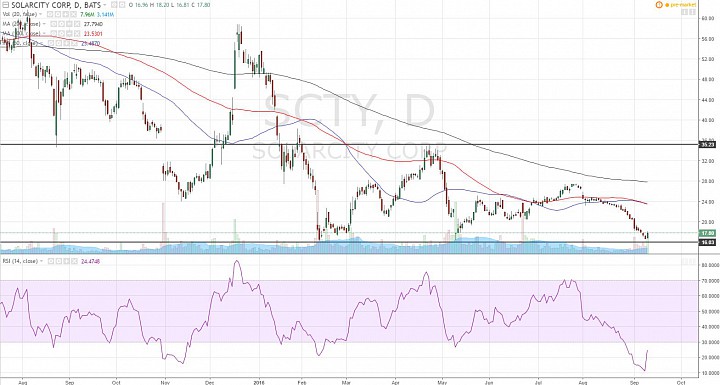 (click to enlarge)
Lower highs still in play:
- As we can see in the daily chart, SCTY was bearish entering the year. 
- Price did find support in the 16-16.50 area twice, once in February then again in May. 
- However, the significant highs are still getting lower, reminding us that SCTY is still bearish, or at best neutral-bearish with emphasis on the bearish component. 

Key support:
- As mentioned above, the 16.00-16.50 area is a critical support that contains the low on the year.
- This week, price came down to about 17.00, and found support Monday (9/12). 
- As we get ready for the 9/13 session, the question is whether the support will hold.

Buying at support:
- Because the prevailing trend is bearish, I would not buy from this support area, unless it gets real close to 16.00 and stalls. If I am going risk going against the prevailing trend, I would at least want great reward to risk.
- A break below 16.00 would be a sign that bears are in charge. 
- But if price can hold above 16.00, there is a short-term upside risk back towards 20.00. Even if I risk buying around around 16.00, I would limit the bullish outlook to 20.00.