There is so much hype about Tesla. The design of its premium electric vehicles is so damn good. The idea of buying Tesla shares came to mind. But "All that glitters is not gold". And here is my point. 
So Tesla Motors Inc. (TSLA) shares are down more than 5% so far this week. If that weekly loss holds, it will be Tesla's worst performance since mid-August.
BTW shares are down 16% from their 2015 peak reached in July.
Tesla stock has underperformed in recent months. Tesla shares are down nearly 13% in the past three months, which contrasts with losses of 4.3% for the S&P 500 index in the same period. Shares have also underperformed in the last 12 months, down nearly 10% versus a gain of 3% for the S&P.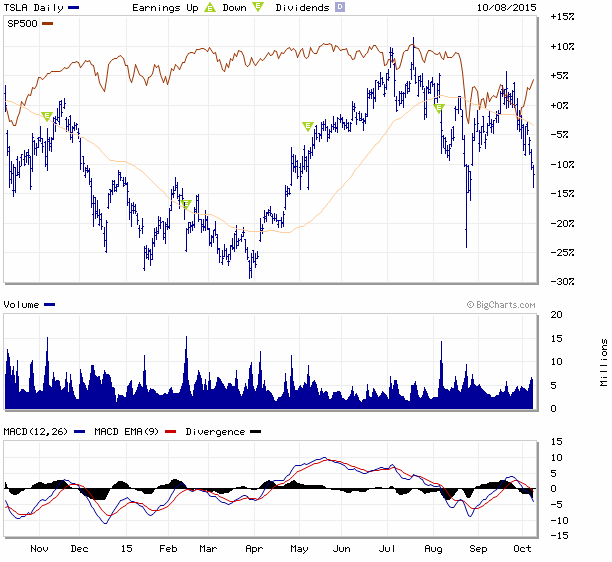 Meanwhile analysts at Baird Equity Research downgraded the stock to neutral from buy. They also lowered the stock's price target to $282 from $335.
And the consensus from analysts at Morgan Stanley cut their price target on the company's shares to $450 from $465, which is still 56% more than the average price target on Tesla. Weirdos.
So for the moment average recommendation is Hold and average target price is about $285.06.
FYI: close price is $220.
Needless to say, that I'm a bit confused. I'm looking forward to the first news/drivers so I can make a decision.