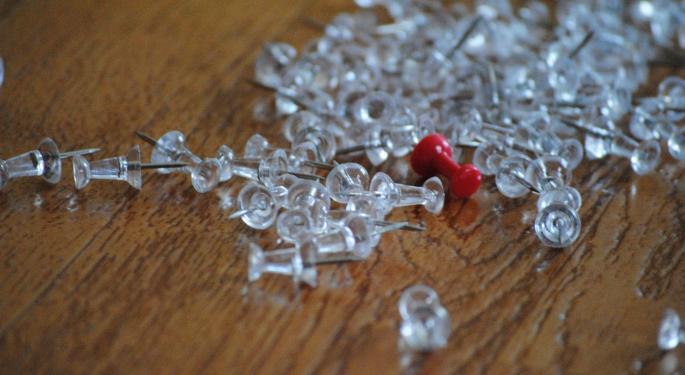 Wells Fargo & Co analysts expect potential downside for both Office Depot Inc ODP 38.92% and Staples, Inc. SPLS 17.47%. Their reaction comes on the heels of the Federal District Court granting an injunction from the FTC to block the planned merger between the two office products suppliers.
Both companies intend to scrap their earlier merger deal, as the two companies were unlikely to appeal before the court, according to Wells Fargo. Staples would also cancel its agreement to divest its big corporate contract business to ESND.
The brokerage expects meaningful weakness to prevail in both the stocks on Wednesday. Its analysts have also reiterated its Sector Weight ratings citing the end market for office products continued to remain challenged and that the competition was growing.
As far as Staples is concerned, the financial advisor sees potential of as much as 23 percent downside to $8 based on EV/EBITDA of 4x; factors in $250 million breakup fee paid to ODP. Similarly for Office Depot, the brokerage sees potential for as much as 26 percent downside to ~$4.50 based on EV/EBITDA of 3x; factors in $250 million breakup fee received from Staples.
Wells Fargo also noted the four-pronged tactical plan to improve shareholder value in the wake of merger termination. That includes increasing focus on mid-market customers in North America and categories beyond office supplies. The second factor was exploring strategic alternatives for European operations, while the third related to the initiating of new $300 million cost cutting measures to be achieved by the year 2018. The final plan was the continuous return of cash to shareholders, which would include $100 million share repo in 2016, commencing from the second quarter.
At time of writing, Staples was down 17.76 percent at $8.52, while Office Depot was down 38.59 percent at $3.74.
| Date | Firm | Action | From | To |
| --- | --- | --- | --- | --- |
| May 2016 | Jefferies | Downgrades | Neutral | Sell |
| May 2016 | UBS | Downgrades | Neutral | Sell |
| May 2016 | Telsey Advisory Group | Downgrades | Outperform | Market Perform |
© 2016 Benzinga.com. Benzinga does not provide investment advice. All rights reserved.