On Wednesday we highlighted the fact that US corporations issued a record amount of debt in Q1 with high grade supply coming in at $348 billion while issuance for the month of March tied a 2008 record at $143 billion. Explaining this debt bonanza, we noted that "struggling oil producers tapped HY markets to stay afloat, companies scrambled to max out the stock-buyback-via-balance-sheet re-leveraging play before a certain "diminutive" superwoman in the Eccles Building decides to do the unthinkable and actually hike rates, and then there was M&A." We also discussed how successive rounds of QE in the US served to boost HY issuance by some 50% above the historical average: 

Now UBS is out calling for a similar dynamic in Europe as the ECB's €1 trillion plus in asset purchases should drive demand for corporate credit as yields on sovereign debt and SSAs are driven relentlessly lower. The bank is now forecasting €600 billion in supply for 2015, up a fifth from last year with €300 billion in HY.
Via UBS:
The European credit markets have seen prolific issuance since the ECB announced its QE program in January, catching many off-guard. The reverberations have not been limited to credit; the Eurostoxx is currently up 18% YTD in local terms (ZH: i.e. decreasing leverage for Greece), and remains up 5% YTD in USD, demonstrating a renewed marked belief that QE may be enough to shake Europe out of its doldrums. We believe the story of Q1 is not an aberration, but a trend. We are now forecasting EUR corporate issuance of €600bn (+20% Y/Y) in 2015, with much of the growth coming from non-financials. HY issuance should total €100bn (+28% Y/Y) and IG non-fin issuance should total €275bn (+22% Y/Y), with potential upside of €140bn & €300bn if Europe follows closer to the US roadmap around QE. The impact on European equities should also be substantial as M&A activity picks up. 
Indeed Q1 witnessed a dramatic Y/Y increase in EU IG issuance, with supply up 41%...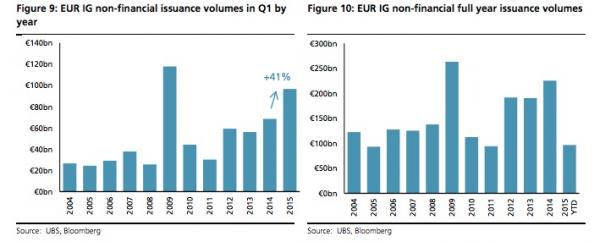 ...while issuers took advantage of an opportunity to extend maturity profiles and capitalize on movements in the EURUSD:
In short, IG corporates have been terming out debt (51% of total issuance has come in maturities of 10y+) and optimising their capital structures (corporate hybrid issuance up 28% YoY to €14bn). Importantly, issuance volumes have been particularly high because of the activity from US issuers. A slew of reverse Yankee deals (US corporates issuing in euros) hit the market in Q1, accounting for 28% of EUR IG non-financial issuance as US corporates took advantage of lower currency adjusted spreads in Euros vs dollars.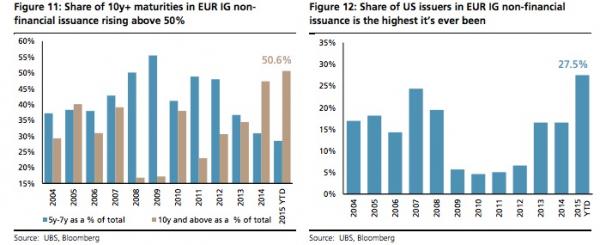 Q1 saw a remarkable 73% Y/Y increase in HY issuance...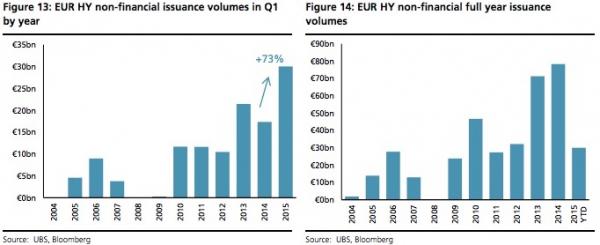 ...which of course suggest that eventually the credit quality of issuers will invariably decline as yields are driven lower and investors are forced to ante up on risk in order to squeeze out a few extra basis points in yield…
€30bn worth of bonds were issued in 1Q15, up 73% YoY which puts 2015 in a position to set a new record for issuance. That said, despite these large issuance volumes quality has not deteriorated. On the contrary, the ratings mix has improved vs 2013 and 2014 with BB and split BB/B rated issuers accounting for 60% of the issuance (vs less than 50% in the prior two years). Interestingly in the US we saw the opposite dynamic with QE generally leading to a deterioration in the credit quality of new issues. This is not so surprising to us. Indeed, QE has only been announced recently in Europe and lower quality high yield remains a hazardous area in the eyes of a number of investors given last year's poor second half performance. However, credit quality could drop ultimately as confidence in the high yield asset class strengthens. 
…and with HY issuers incentivized to refinance at artificially suppressed rates…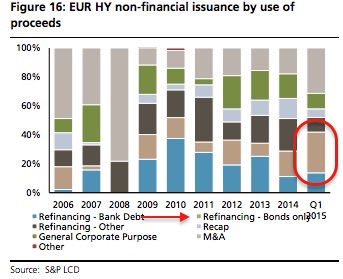 *  *  *
So summing up, that's €600 billion in new euro issuance and a record €100-140 billion in HY from companies looking to refinance. Given that, we come back to what has become a familiar question in a world where rock-bottom yields create insatiable demand for corporate debt but in which new regulations discourage banks from market making: what happens when some "accident" or exogenous shock or tail event sends everyone in the secondary market charging for the door all at once and there's no one there to provide any liquidity?