Seadrill Partners Can Weather Downturn: What about Its Dividends?
Wall Street estimates
As we reviewed earlier in this series, Seadrill Partners' (SDLP) 2016 backlog calls for a small dip in revenue. Looking ahead to 2017 and 2018, the company could see a steep fall in revenues based on its existing backlog.
In this article, we'll see what Wall Street analysts expect for Seadrill Partners' revenue and EBITDA in the coming years.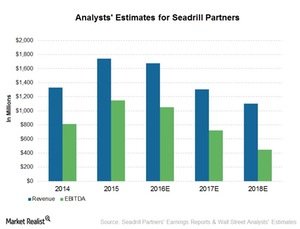 Revenue
Wall Street analysts estimate revenues of $1,678 million in 2016 for Seadrill Partners, which is 4% lower than 2015's revenues of $1,742 million. Only one contract will roll off in 2016. The...
More