AUD/USD is now forming a falling flag pattern in the 1H chart after a breakout rally to begin this week. 
Backdrop:
Let's back up just a little bit. In 2014, AUD/USD has been sharply bullish, but in April, AUD/USD was in a bearish correction. At the start of this week, I noted that AUD/USD was challenging the 0.93-0.9315 resistance area as well as a falling channel resistance, threatening a breakout.
Then at the start of this week, we saw AUD/USD break above April's falling channel resistance, a bullish continuation signal.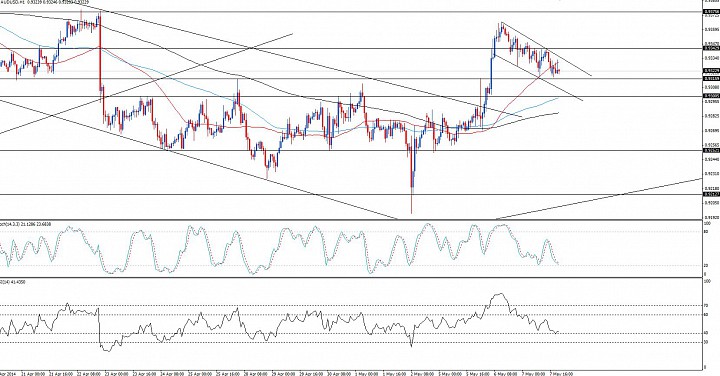 (audusd 1h chart, 5/8)
Flag Pattern:
The most recent price action seen in the 1H chart, shows a flag correction pattern as price retreated almost back to the previous resistance area (0.93-0.9315). If the market is turning bullish at least in the short-term, the 1H chart shows a technical set up for a bullish attempt ahead. 
Stochastic-RSI:
The stochastic is about to be below 20, and reflect oversold condition. The RSI is about to tag 40. If the RSI holds around 40 and turns up, we can be looking at a bullish continuation swing to extend the rally we had so far in May.
Intra-session time-frame
A break above 0.9345 should add confidence for AUD/USD - bulls. Because I am basing this on the 1H chart, the bullish anticipation is for the intra-session time-frame.