There were many breakouts in the currency markets this week. I discussed a couple today for the euro, which has been bullish:
EUR/AUD in a bullish reversal breakout
EUR/GBP in a bullish continuation breakout
Meanwhile, the Aussie (AUD) is breaking to the downside.

AUD/USD 4H Chart 7/19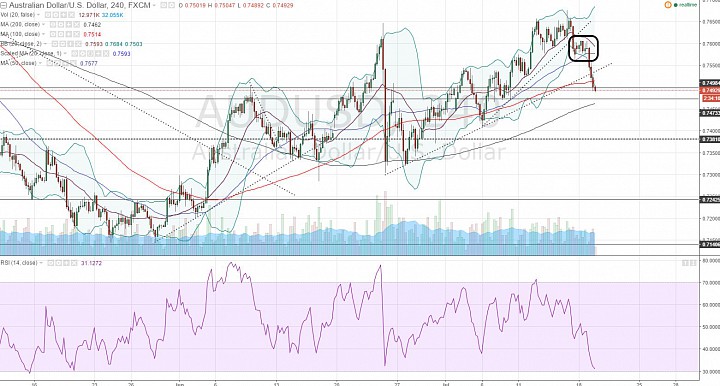 (click to enlarge)
Bearish breakout:
The AUD/USD was bullish throughout June until it found resistance around 0.7650 mid-July.
The 4H chart shows that after a couple of failures to clear 0.7660, there was strong bearish price action. 
The slide broke a steep rising support and appeared to have formed a price top at the end of last week.
This bearish breakout hinted at a bearish reversal, but was not dramatic at first.
The fact that it stalled and came back to 0.76 during the 7/18 session offered a trade opportunity. Let's take a closer look in the 1H chart.

AUD/USD 1H Chart 7/19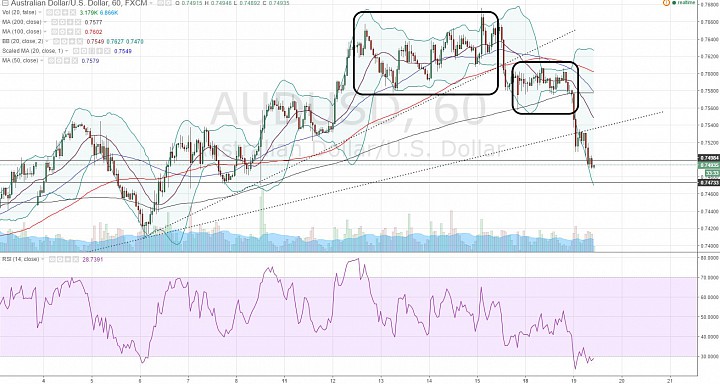 (click to enlarge)

Bearish signals:
The 1H chart shows a more convincing price top formed last week. 
The fact that price broke below the 0.7580 low was a bearish signal for me. 
We also started to see resistance at 0.76, which suggested an entry point. 

Entry after a breakout: 
I actually entered 3 positions at 0.7588 after seeing the bearish candle that dipped to 0.7560. 
At this point, price was below the 100-, and 50-hour simple moving averages. I used these as a guide for stop. A stop was put at 0.7630. (I had plans to short again around 0.7650 if my stop was hit. But this trade would have less aggressive targets). 
The targets for the positions opened at 0.7588 were 0.7530, 0.7480, and 0.7430.

These 3 positions opened, and the 1st target was hit. The AUD/USD is closing in the second target. I think there is a chance it will hit during the 7/19 session, but a pullback towards 0.7550-0.7560 would not be surprising. I think at this point, as long as price is under 0.7580, the mode is bearish, so I would remain confident even if there were a pullback towards 0.7550-0.7560.