Is Sonic your fav fast food chain? if so, you're gonna love their share too! After the closing of Monday, Sonic (ticker: SONC) reported earnings of $3.6 million, or six cents a share. Its earnings were five cents a share for the quarter ended Feb. 28. Revenue, however, decreased 3.4% to $111.1 million. Majority of analysts were anticipating earnings of five cents on revenue of $112.7 million. Currently, the share is trading at 52-week high. There is still a potential for Sonic to go high if they can pass a crucial summer season.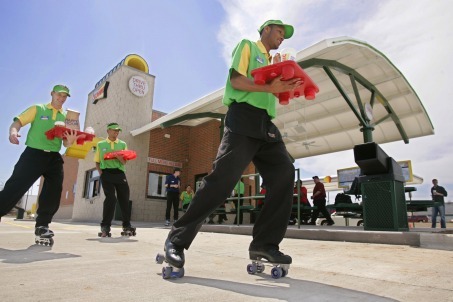 Even though same-store sales were plateau overall in the quarter, that figure jumps 1.3% for the year end report; this includes a 3.3% increase at company-owned drive-ins. Analyst increase the company target share price to $14 following the report, as they have faith in margins expanding at company-owned stores and increasing benefits from its franchises. Moreover, the price target support is that management also continues to forecast fewer aggregate closings in fiscal 2013, given the improved margins, and expects a return to net franchise openings in fiscal year 2014.
There are some concerns that the restaurants are vulnerable to any spending pullback by low-income customers but that is not as important because the company looks very positive on the longer-term momentum of the brand and I think that significant upside remains in the stock as the system simply puts up consistently positive same store sales growth.