NVIDIA Corporation (NASDAQ:NVDA) stock is one of the star performers in 2017. But, what about 2018?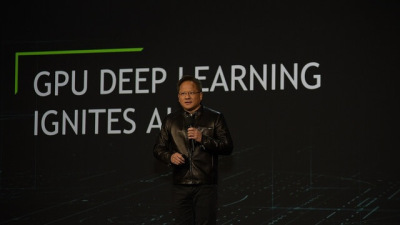 GPU major NVIDIA Corporation (NASDAQ:NVDA) stock has had another outstanding year in 2017 taking its gains in the last two years to near 500%. However, profit taking and rotation from tech sector has slightly dented NVDA stock's progress at the fag end of the year. NVIDIA shares ringed in the new year on a high, popping nearly 10% in the first two days trade. Now, after two years of breathtaking returns, will NVIDIA hit a speed bump in 2018? The analyst estimates hint at a slowdown in 2018, should investors be worried? Let's take a closer look.
CES 2018 could again set the tone for NVIDIA this year.
Nvidia CEO and co-founder Jen-Hsun Huang's opening keynote at the Consumer Electronics Show (CES) 2017 really upped the ante for the GPU maker laying out its achievements and vision in the key markets of gaming, artificial intelligence, virtual reality, autonomous cars and the data center. Rightly, NVIDIA's event at the CES 2017 was a big success. Mr. Huang made a pitch for the company's technologies which have a sizable, growing footprint in emerging growth markets and opportunities going beyond the already lucrative core gaming market. NVIDIA had conducted an impressive display of its technologies and IP along with industry partner demonstrations in machine learning, autonomous cars and big data analytics which it expects to have a multi-billion dollar TAM by 2020. NVIDIA is all set to showcase its new technology innovations at CES 2018 on January 7. This event could once again give an insight into how NVIDIA has progressed with their execution in design and delivery of its core GPU products in the key markets of AI, self-driving cars and high-powered GPUs.
NVIDIA stock boosted by improving margins.
Though strong earnings and revenue growth have been the main drivers for NVIDIA stock, some credit is also due to the company's expanding profit margins and operating cash flows. Profit margins and cash flows have picked up significantly over the last few years. Operating margin has almost doubled from around 16% a couple of years ago to almost 32%. Net margins too have undergone similar changes. The increasing profitability has also greatly impacted the company's return on equity which has almost tripled from little under 15% in 2013 to more than 43% in the previous quarter. Company's free cash flows, as well as operating cash flows, have also risen multifold. NVIDIA's free cash flows (TTM) have seen more than 5X growth rising to $2.63 billion in the last quarter from $580 million at the end of FY 2014. While NVIDIA has managed to deliver astounding earnings growth over the last two years, but analysts expect the EPS to grow at a CAGR of only 15.45% in the next five years.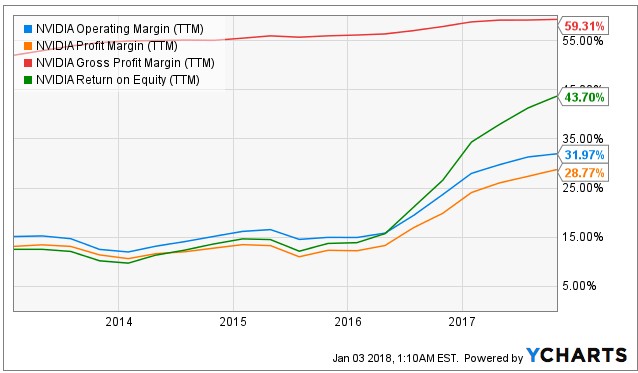 NVIDIA is less leveraged than its peers.
NVIDIA's balance sheet has become stronger on account of margin expansion which has aided profit growth and cash flows. The long-term debt of the company has remained at $1.98 billion since the third quarter of FY 2017 whereas in the same time frame its cash and cash equivalents have risen to $2.8 billion in the last quarter from $1.94 billion. NVIDIA had a total cash reserve of $6.3 billion at the end of fiscal 3Q18 which means it has a net cash position of $4.3 billion. In this context, NVIDIA is much less leveraged than its competitors AMD (NASDAQ:AMD) and Intel (NASDAQ:INTC) which gives it an edge over its rival as it can continue to invest in long-term growth opportunities without much pressure on its balance sheet.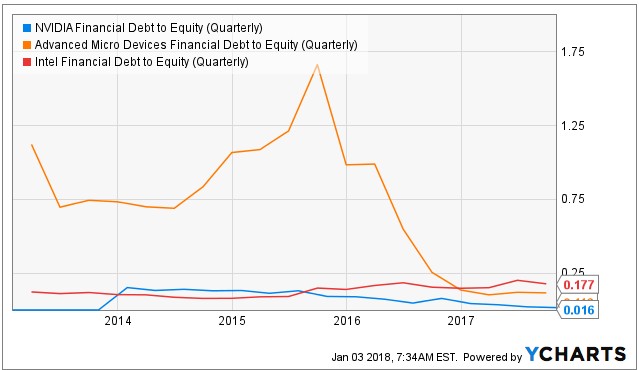 Nintendo tailwind likely to continue in 2018.
Colette Kress, CFO NVIDIA, duly acknowledged the boost given by the Nintendo Switch sales to gaming revenues in the last quarter earnings call. If the latest estimates of Switch console (which are powered by a custom version of NVIDIA's Tegra X1 SoC) sales are anything to go by then, the chipmaker's gaming revenues are likely to be benefitted by this tailwind in the whole of 2018 as well. Nintendo had earlier announced that they have sold 10 million units of the Nintendo Switch console worldwide since its launch in March 2017. Now, reports suggest that it is expected to sell over 20 million units in the fiscal year 2018 (beginning April 1) which is almost double the number of units sold in the first nine months of launch. Nintendo President Tatsumi Kimishima had stated the company's target for next year speaking to a local daily. With a WSJ post also suggesting a production target of 25 million to 30 million Switch consoles in fiscal 2018, the sales are likely to be much stronger in 2018.
Do investors need to worry about a slowdown in growth?
After two years of near triple-digit earnings growth and high double-digit revenue growth, Wall Street estimates suggest that NVIDIA juggernaut could be slowing down in 2018. The analysts expect the GPU maker to grow its earnings by just 11.9% in fiscal 2019 while the top line growth is estimated to be a rather modest 15.8%. Well, that's not all, the 5 years earnings growth is also low as per NVIDIA standards coming in at 15.45%. With Wall Street estimates suggesting a slowdown in growth, NVIDIA stock has the risk of being plagued by valuation concerns. NVDA stock presently trades at 45 time forward earnings and 14 times the sales, which is well above its 5-year average PE and PS multiples. If the estimates were too hold true, then the stock seems to be very expensive right now. However, investors shouldn't be concerned right now and wait until the company's fourth-quarter earnings to have a better idea of its growth prospects in 2018.
Wall Street has significantly underestimated NVIDIA's EPS estimates over the last three quarters as NVIDIA has beaten analyst estimates by a minimum of 19% and as high as more than 40% in one quarter. As we had highlighted above, if the margin expansion continues, it could further aid earnings growth in 2018 as well. It's not only on the earnings front, NVIDIA has even trumped high end of the revenue estimates in a big way over the last few quarters. All this suggests that the analyst estimates might be too conservative. There seems to be no slow down in traditional gaming market which is expected to grow at a CAGR of 6.8% in 2018 and popularity of esports and social gaming is expected to reach a notch higher in 2018. Given all this, NVIDIA's core revenues could see a steady rise in 2018 and with immense potential in its AI and autonomous car segment. It's too early to rule out NVIDIA in 2018.
Bottomline.
It makes sense to be wary of a stock which has delivered extraordinary returns for two consecutive years, as it might see a slowdown in the days ahead. However, investors with positions in NVIDIA stock should not be too worried just yet. While NVDA stock may not deliver the last two years like returns in coming years, it is still likely to be a good performer as the company continues to deliver a strong bottom line and top line growth. As time and again over the last one year NVIDIA has surprised the market beating the high-end estimates, the chipmaker could repeat its success to some extent given the immense high growth potential in AI and autonomous driving opportunities. Add to it the cryptocurrency mining tailwind which the company has consistently excluded in its past guidance could make a difference in 2018 as well if the crypto craze continues this year too. The CES presentation could give us some valuable insights about whats in store in terms of product launches in 2018.
Looking for stocks that are backed by strong fundamentals like NVIDIA stock? Check out our top stock picks, which have beaten the NASDAQ by over 153%. Interested in automotive stock? Then, we also have our top picks from the auto sector, which have beaten the S&P 500 by a whopping 272%. If you're a trader though, you should check out our daily trading ideas section for daily, free updates on the latest crossovers and other popular technical signals.
More